COVID-19 College Updates
Below: Jack Grant, 2020 Senior Student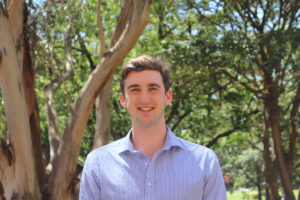 24/8/20 – From the Principal's Office
Dear Students and Parents,
Our three week Pre-Semester Program has concluded, with the commencement of Semester 2 at Sydney University.
We are very proud of how our students embraced all aspects of the program, with great enthusiasm. A special mention and thank you to our Education & Student Life team who put together such an engaging schedule of events and activities.
Highlights of the program's final week included:
– Professional Development: Seminars on Industry Insights and a Negotiation Workshop
– Academic Skills Workshops: Excel and LaTex
– Writing Workshop with Mark Tredennick OAM
– Leadership Training with Dr Sumant Monty Badami
– Andy's Bar
– Highland Shield
– Music: Vocal coaching run by Dr Sarah Penicka-Smith, Chemble and Piano Trio
– Academic Trivia Night
It has been a very memorable three weeks for all involved.
On a more serious note, over the past few days, we have had only a very small number of students step forward for COVID-19 testing; please remember that as soon as ANY cold and flu-like symptoms emerge, it is essential to get tested. Our Pastoral Care Leaders are a highly capable group of people, able to assist with concerns at any time. We must remain proactive in this, to ensure that College can continue to operate throughout the rest of the academic year (and beyond!) Students must also continue to follow all COVID-safe measures (distancing, hand hygiene, etc) to safeguard themselves and others.
We hope both our student and parent communities have found value in our weekly communications over the past five months. We have sought to keep our Andrew's community as informed and up-to-date as possible in this unprecedented time, and we thank you for the positive feedback we have received along the way.
Going forward, we will continue to be in touch throughout the rest of the year, through our alumni e-news, Blue & White magazine and other forums.
We always welcome questions and feedback from our community, so please feel free to contact us.
Wishing you and your loved ones good health in the months ahead.
17/8/20 – From the Principal's Office
Dear Students and Parents,
The second week of our Pre-Semester Program has been just as enjoyable as our first. The program is proving to be a terrific 'welcome back' to College prior to the commencement of Sydney University's second semester. It has been a well-received blend of face-to-face with the best of online, based on student feedback from their experiences in Semester 1.
A highlight of the past week was an Industry Insights Seminar with young alum, Sam Clarke, co-founder of Clipboard. Held in the Chapel, it was a socially-distanced, but highly engaging, event with lots of interesting questions from our aspiring entrepreneurs.
Clipboard is a web-based application designed to enable schools to focus on students, not spreadsheets. In early 2019, Clipboard was accepted into one of Australia's most reputable and competitive accelerator programs, muru-D. Backed by Telstra, Clipboard was one of only ten startups to be accepted out of nearly 200 applicants. Read more about Clipboard here.
We will be welcoming Sam back to College soon, along with other alumni, for the 2020 iteration of Androvation. It has been wonderful to retain alumni engagement and it is a testament to one of our greatest strengths: our enduring community.
We continue to successfully navigate through the best practice protocols of living in a COVID-safe community. We are ensuring daily that we as a College adhere to all current government recommendations, with our own stringent reporting processes in place should one of our students become ill.
We are now in our final week of the Pre-Semester Program and we are confident, with the continued participation and enthusiasm of our students, it will prove to be another successful week.
10/8/20 – From the Principal's Office
Dear Students and Parents,
Our campus has come alive again, with our Pre-Semester Program commencing last week.
The calendar was full, and our College was lively; we look forward to another fortnight of this program prior to the commencement of Sydney University's second semester.
As part of the schedule, some compulsory sessions were held for students in College, which covered COVID-Safe conditions as well as a session regarding our new Social Media policy.
"We Need to Talk" along with an Academic Skills session on MATLAB basics were also held throughout the week.
Music returned to our campus – Chamber and Jazz ensembles each held several rehearsals. Unfortunately, Jam Night was postponed due to inclement weather, and we look forward to rescheduling this soon.
A busy week for competitive sport as well:
– Tennis selection trials held
– Rowing ergs time trials completed
– Hockey trials began
– Athletics and swim (at 6:00am!) squads training have also begun.
Social sport returns this week, with Highland Shield and Fresher Footy and Netball offering a terrific opportunity for participation-level activity.
Social highlights included the operation of Andy's Bar (the in-house chill zone in the JCR) between Tues-Thurs, with the Wine and Cheese event on Friday.
Student leadership is working hard to ensure compliance with the COVID-Safe conditions, and similar social activity has been scheduled for this coming week.
We look forward to sharing further updates and highlights from our Pre-Semester Program with you next week.
3/8/20 – From the Principal's Office
Dear Students and Parents,
A warm welcome back to our students; it is fantastic to see the campus coming alive again after so many quiet months. Please remember this semester will be a different experience than what you have been used to. We have prepared all students for these changes each week for the past four months, referencing our 'new-normal' Terms and Conditions continually via this channel. It is important to understand that there is NO reason for you not to understand the consequences of breaching our new rules; if you are unsure about any of the stated requirements, please ask for clarity rather than just making your own assumptions.
Ignorance will not be accepted as an excuse; these rules are in place for your own safety, as well as those around you. As a reminder, the Terms and Conditions can be located here.
It is our top priority to keep our students and staff safe and well, and to prevent any COVID-19 outbreaks in our community which could jeopardise the rest of Semester 2. Residential Colleges are classified as a high-risk setting. We only have six en-suite rooms, and that won't be enough if we have multiple positive cases and contacts. The Public Health Unit will take over and we'll lose the capacity to control what happens in our community.
Physical distancing and hygiene is of the utmost importance; no more than 3 people per bedroom, or 5 people in an apartment common room; the 4 sqm rule still applies.
Please keep in mind that your actions affect not only you, but those who rely on your skills – teams and ensembles that you are a part of. We are confident that now so many of our students are back, no-one wants to miss out again.
Consumption of Alcohol
To clarify our policy regarding alcohol – it is only to be consumed in bedrooms and at approved events. It is the group / gathering effect of alcohol that we need to eliminate. No excuses; please do not walk around College with a drink in your hand. Do not come back to College and kick on after going out elsewhere, those who breach this rule will be sent home.
Visitor Policy
No more than two guests per person, to allow sensible contact with friends, partners and family. If 'corridor events' emerge, or there's any abuse of this privilege, we will revert to a policy of NO visitors.
You carry a personal responsibility to record contact details of any visitor you bring into College. This is to ensure fast tracing in the event of a positive case to reduce the risk of a community outbreak.
Are you experiencing cold and flu symptoms?
Get tested, as so many in our community have already done. Keep coughs and sneezes away from your friends, but importantly, get a test. Even if you receive a negative test, please remain isolated until after your symptoms disappear. Spreading these viruses only puts your friends in jeopardy and results in more people needing to self-isolate.
Let's (finally) do this!
This has been the most disrupted year in this College in living memory, and there's a good case to suggest that it is the most disrupted in the history of St Andrew's.
We've done all we can to prepare; all the known risks have been considered and acted upon, but in the end, it depends on each and every one of you. We trust you to keep our College a safe and happy place to live.
We are excited that the Pre-Semester Program has kicked off; we hope you all enjoy being a part of it, and that you settle smoothly back into life at St Andrew's College. The way you've responded to our call to return, and the way your leadership has committed to building a sensible but also ambitious semester program has been an inspiration – thank you.
Below: 2020 House Committee