COVID-19 in 2021
25 August 2021
College held another 'Town Hall' meeting for students yesterday. It was a very useful opportunity for students to ask questions and be updated on the latest developments.
St Andrew's is supporting students to get vaccinated, in a variety of ways. For example, a mini-bus is booked for students to travel to Sydney Olympic Park to receive their second dose on Sunday 12 September. (This is also available for anyone who wants to receive their first dose.) An opportunity to get the Pfizer vaccination at a local clinic was advertised on the student Facebook page this week.
If you have any questions or concerns about getting vaccinated, please:
– get in touch with your family GP
– contact the USYD Health Service (Health services – The University of Sydney), or
– speak with our Vice-Principal, Dr Hester Wilson
Thank you to residents who are complying with College's COVIDSafe rules. The rules are in place for the safety and well-being of everyone in our community.
11 August 2021
The University of Sydney is providing a special one-day COVID-19 vaccination clinic for students on Sunday 15 August at Sydney Olympic Park. Students are invited to book an appointment now. The University has confirmed that they are happy to extend the invitation to students at UTS and UNSW living in the colleges at Sydney. FAQ are available on the University website.
9 August 2021
We are pleased to welcome our residents back to College for Semester 2, 2021 and confirm that the College is committed to remaining open and providing the best on-campus experience that is possible, whilst ensuring the health and well-being of all students and staff as our first priority. Safety protocols are in place under the College's COVIDSafe Action Plan to keep everyone safe. Terms & Conditions of Residency for Semester 2 have been issued to all students.
2 August 2021
All three students (below) have returned negative tests. The close contact continues to self-isolate as a precaution. College has now secured additional off-site isolation capacity in collaboration with the University of Sydney, should this be required. Members of College's catering and housekeeping staff have temporarily moved on site in order to continue their roles and decrease risk for the community. Any student not in College over the vacation period will be approved to return in a staggered process in the period up to 8 August 2021.
28 July 2021
Close contact advice 
One of our students has been informed that they were a close contact of a staff member in the School of Chemistry in the University of Sydney who has tested positive for COVID-19. Our student, and their close friends have now been tested and are isolating until they get a negative result. We thank them for doing the right thing. This is a timely reminder that this virus is still out there and we need to continue to be cautious and follow the public health orders and College directives both in and outside College.
Returning to College
Any resident who wishes to return to College must:
complete the online form to indicate the date of return

have taken a COVID test within the prior 72 hours and upload a negative test result
Please note – if you are a 'close contact' of a positive case, you must stay in self-isolation for 14 days and cannot return to College. If you are experiencing cold and flu symptoms, do not return to College until you have both received a negative test result and your symptoms have cleared. Please continue to check the NSW Health COVID-19 information regularly for information on case locations and health advice.
12 July 2021
Remainder of the lockdown period
A tightening of the regulations around the visiting of other households requires some adjustment to arrangements in College. We ask that for the remainder of this lockdown period, residents make a choice between their College residence and their family home, and remain in the chosen option until the regulations change.
All residents are welcome to return to, or remain in College at any time, however once College has been chosen, you are committed to remain at College for the duration of the lockdown period. While residents may leave College for permissible purposes, we ask that residents do not move back and forth between College and another residence for any non-permissible reason.
Semester 2
At this time, Semester 2 is planned to resume as intended on the first day of term, Monday 9 August.
Operational changes in College
A number of restrictions have been put in place around College come as a direct response to the Public Health advice and restrictions enforced by NSW Public Health Orders. We will adapt these conditions according to any changes around the tightening or easing of restrictions, as they are announced.
7 July – stay at home order extended until 16 July
The stay at home direction applies to people who live in, usually work in, or usually attend a university or other tertiary education facility in Greater Sydney (including the Blue Mountains, Central Coast, Wollongong and Shellharbour local government areas) until 11:59pm on Friday 16 July 2021.
26 June – stay at home order extended until 9 July
From 6pm on Saturday 26 June 2021, if you have been in Greater Sydney, for any reason since Monday 21 June 2021, you must follow the stay at home rules and continue to follow them for 14 days after you were last in Greater Sydney. A person must not enter Greater Sydney without a reasonable excuse. If you are in Greater Sydney, you must comply with the stay at home rules. If you want to visit another person you will need a reasonable excuse to be away from your place of residence. A visitor does not include a person at the place of residence who is there for work or to attend university.
If any student currently at home needs to return to College for essential education or work commitments, this is permissible under the latest regulations. Further information can be found on the NSW Government website.
25 June 2021
In line with the Public Health Orders and NSW Health Guidelines issued this morning, we now advise that as the College is part of the City of Sydney LGA, which has been issued a stay at home order, the following restrictions will apply. Effective from today (Friday 25 June) until Friday 2 July, anyone who lives or works in these LGAs must stay at home.
If students are currently at home
If students have already travelled home for the vacation, please stay there until advised it is safe to return to College.
If students are currently at College
Any non-essential travel outside of metropolitan Sydney is prohibited until restrictions are eased. Travelling directly to home from College for the vacation qualifies as essential travel.
Visitors
During the stay at home period, visitors are not permitted into College.
Safety protocols
Physical distancing of one person per 4 sqm, in line with current NSW Health rules, is in place for all our facilities, along with a raft of other Covid-19 safety measures. Any breaches will be taken very seriously.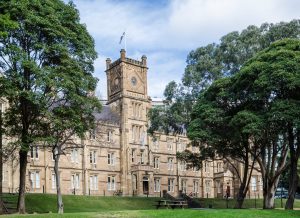 Semester 1, 2021
St Andrew's College developed and administrated an effective COVID-safe response in 2020 to allow students and staff to safely return to College. '
Conditions are subject to change as the year progresses, and as NSW Health guidelines continue to be reshaped to reflect current circumstances.
While vaccines are under development, it is not clear when vaccination will be universally available for College staff and students. As a result, it is likely that COVID restrictions will need to continue in College for 2021.
Social distancing, capacity limits on people in all rooms, the provision of hand sanitiser and reiterating the importance of good hand hygiene will continue. Our COVID-19 guidelines and expectations for the academic year are formed under the guidance of our Vice Principal Dr Hester Wilson.
Current NSW Health rules include physical distancing for all of our facilities. The permitted numbers will be reflected in signage for each room to avoid uncertainty.
College has a contingency plan for the isolation of students in 2021, should it be required. The plan includes using a combination of onsite ensuite and hotel isolation options. Students with ensuite rooms will be able to isolate inside with College support, however those who rely on the use of shared bathroom facilities will be isolated at Rydges Camperdown, very close to our campus.
Our terrific Pastoral Care Leaders will continue in their role as trained COVID first responders.
All eligible students should be required to be vaccinated with the new 2021 influenza vaccination when it becomes available and College should request documentation that this has been carried out.
The importance of the ongoing need for compliance to keep us all safe and keep College open will continue to be emphasised. There will be severe consequences for individuals who repeatedly breach the terms and conditions of living in College during the pandemic.