Contact Us
Tel: +61 (2) 9565 7300
Diversity, Equity and Inclusion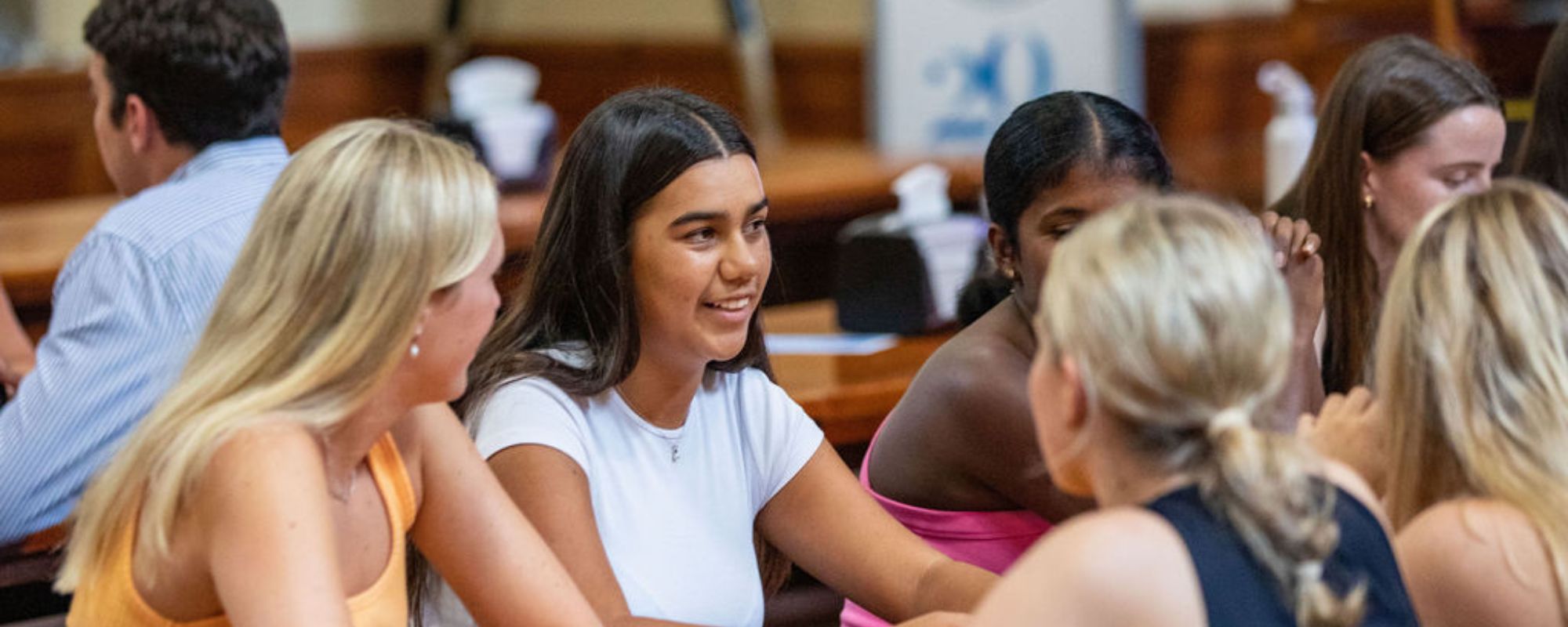 St Andrew's College is committed to fostering a diverse, equitable, and inclusive community where everyone is respected, valued, and empowered. We actively promote a culture of inclusivity that recognises and appreciates the intersecting dimensions of race, ethnicity, nationality, gender identity, sexual orientation, socioeconomic status, age, ability, religion, and other individual characteristics.
Diversifying our student profile is an important aim of the college. Communication and recruitment strategies are being developed and implemented to increase the representation of students from minority communities. St Andrew's welcomes Indigenous students, persons from diverse ethnic and cultural backgrounds, LGBTIQA+ individuals, and people with disabilities.
This links to our Scottish Enlightenment heritage, where a sense of social responsibility means we want to be able to offer a college experience to a wide range of students, and the uniqueness of each person is celebrated along with a deep commitment to equality.
We also believe that diversity enriches everybody's educational experience, enhances personal growth, and prepares our students to thrive in a global society. We embrace the perspectives, backgrounds, cultures, and identities that our students, staff, and community members bring to St Andrew's.
We are committed to:
1. Cultivating a Welcoming Environment
We strive to create a warm and inviting atmosphere that embraces individuals from all backgrounds. We foster open dialogue, encourage empathy, and promote understanding among our community members.

2. Providing Equal Opportunities
We ensure all students have equal educational, co-curricular, and leadership opportunities.
3. Celebrating Diversity
We actively recognise and celebrate the diversity within our community. Through events, programs, and other initiatives, we highlight the contributions and achievements of individuals with diverse identities and promote cultural exchange and understanding.
4. Educating and Empowering
We provide educational opportunities that promote diversity, inclusion, and social justice. We equip our students with the knowledge, skills, and tools to challenge bias, discrimination, and inequality.
5. Nurturing a Supportive Community 
We foster a sense of belonging by promoting respect, empathy, and support among all community members. We provide resources, counselling, and spaces for dialogue to address any concerns, conflicts, or incidents that may arise.

6. Continuous Improvement
We regularly evaluate and enhance our diversity, equity, and inclusion efforts. We listen to the voices of our community, learn from feedback, and adapt our practices to meet the evolving needs and expectations of our community.
We understand that diversity, equity, and inclusion are ongoing journeys, and we are committed to fostering a campus climate where everyone feels safe, valued and heard.

Our collective efforts aim to create a vibrant, inclusive, and equitable college that prepares our students to be compassionate global citizens and leaders of tomorrow.