2019 Rawson & Rosebowl Rowing
Rawson Rowing
The 2019 Rawson Rowing campaign was a 9-week process of trialing, selections, training and eventually, racing. With a large pool of talent to choose from, and only four men returning from last year's winning crew, the selection process was the most competitive in years. Such competition made for some very spirited performances off and on the water, with ergo tests and seat trialing narrowing the squad down to the final 9-man crew. Consequently, several of our men who were deserving of spots were unfortunate to miss out.
The final crew, consisting of Angus Allen (Fr 2018), Paddy Holt (Fr 2017), Jack Grant (Fr 2018), Hugo Mactier (Fr 2017), Jack Mackenzie-Wood (Fr 2017), Mack Matters (Fr 2017), Ben Stewart (Fr 2019) and Callum Cooke (Fr 2018), with Joel Gray (Fr 2018) in the coxswain seat, boasted some glorious rowing talent ranging from school level to Australian level.
In the four weeks leading up to the regatta, each of our men reaffirmed why they deserved a spot in the Rawson crew, committing to the training regime, be it the 18km rows waking up at 4:30am, strenuous ergo regimen, or even solo sand dune hit outs on the Central Coast. While physically demanding, these sessions quickly forged the crew into a tight-knit unit, with the likes of veteran Hugo Mactier and newcomer Ben Stewart providing the crew with continued motivation and intent.
Come regatta day, the crew's intent to win was clear. Our men knew they had done all the necessary preparation and it was now a matter of executing. Following the eerie calm of the start line, our men exploded into action off the start, quickly asserting a narrow lead over the crew. From there, the Drewsmen executed their race plan to perfection, not letting the other crews get a look in. Over the course of 2000m, Drew's steadily grew their lead, eventually claiming victory by 7 seconds over Paul's and ensuring the St Andrew's Rawson Rowing dynasty continued into a 9th straight year.
Special thanks must go to Coaches and Drew's alumni, Zac Von Appen and Jack Cook, for their invaluable guidance throughout the campaign, as well as Sydney University Boat Club for their continued support of College in providing boats and training facilities.
Jack Grant (Fr 2018)
Rosebowl Rowing
The 2019 Rosebowl Rowing Team displayed great dedication and drive throughout their campaign. What started off as a twenty-strong squad in March was put through their paces with erg trials and on-water sessions, and whittled down to a team of twelve that would eventually make up the Rosebowl Eight. The final crew consisted of Dyone Bettega (Fr 2018), Lizzie Treloar (Fr 2017), Gigi Dunn (Fr 2018), Mia Thomas (Fr 2019), Kate Hall (Fr 2017), Elsa Robertson (Fr 2018), Sophie Saunders (Fr 2017) and Wallis Russell (Fr 2018) in stroke with Emily Brunner (Fr 2019) in the coxswain seat.
These women worked together putting in three on-water sessions per week while building their fitness base off the water to compete for a seat in the 'final eight'. With two weeks to go until race day, with the return of the national team trialists (Bettega and Treloar), the racing crew had their first session on the water as the final crew.
As competition day drew closer, boat speed increased and the commitment from each woman, to make it the fastest boat Drew's had ever had, was palpable. And so, it was on Friday 10 May that the Rosebowl Eight had their best race on the most important day; the crew were able to beat last year's record of 7:10.20 seconds, hitting an all time high of 7:09.87 seconds.  Unfortunately, it wasn't enough to secure first place, but the tenacity and strength that our Andrew's women displayed in their racing must be credited to their pride in College and commitment to not letting themselves or anyone down.
I could not be prouder of our crew this season; the way they have conducted themselves on and off the water is commendable and admirable. To come away as the fastest ever Rosebowl Eight from Drew's is no mean feat and a true reflection of the dedication of the crew.
Wallis Russell (Fr 2018)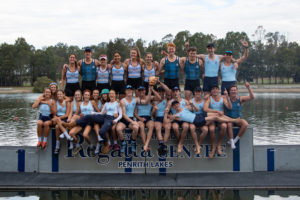 Pictured: The Rawson and Rosebowl Rowing Crew
Photography by Chester Burns (Fr 2019)