2019 Rosebowl Soccer Finals – Under the Lights
After three consecutive wins, our Rosebowl Soccer team suited up for their final game against Sancta last Wednesday night. For the first time, the game was played under lights in what was to be a tight match between the two teams. With the Grandstand full of light blue and white, we started well with some strong tackles and created good goal-scoring opportunities. It didn't take long before we took the lead with fresher Anna Mactier capitalising on a loose ball in the box to kick the first goal of the game, and her first for the campaign.
 Not long after, fellow fresher Ash Dribbus also scored her first Rosebowl goal directly from a lovely free-kick to take the tally to two. We remained in control with the ball, almost getting our third goal but the Sancta keeper stood strong with a couple of nice saves. However, the forward pressure continued with some great work done up top by Emily Cooke, who was able to win the ball and find Jemima McCalman free at the back post for our third.
Jemima continued to use her pace to her advantage down the right wing almost getting her second goal for the night before the half-time break.
 After a great first half by the girls, we were keen to keep the pressure on Sancta.
Teigan Collister added a spark down the left wing as she was subbed on at the break and it didn't take long before she got her first as she fired a shot into the back of the net. Tireless running from midfield duo Clare Wheeler and Neive Roebuck allowed space to open up for other teammates as we kept the ball firmly in Sancta's half. After some great football, Teigan again found space in behind Sancta's defense and calmly slotted the ball into the bottom corner. Nicki Flannery added herself to the scoresheet with a low left foot shot after being subbed on late to conclude the tally at 6 goals.
 It was an overall strong defense performance which saw goalkeeper Kate Nicol able to maintain a clean sheet with Sancta rarely getting a shot away as she stood tall in goals. Centre backs, Ash Dribbus and Airlie Blackman were both strong in the air and on the ground when Sancta looked to attack in the transition moments of the game. They were helped out by fullbacks Sophie Saunders and Maisie McFadyen, who were able to shut down their opponents in one on one battles on the wings. Emma Reid was also subbed on into the defense and continued the great work from our backline to not allow Sancta in behind.
 The final whistle blew as we ran out as comfortable winners of the match, allowing us to retain the Rosebowl Soccer trophy after a successful campaign. With some serious injuries early on, we overcome significant adversity to play some impressive football. Special thanks to Maisie McFadyen for coming in as a replacement only a couple of days before our first game and doing such a great job, as well as Jess Owens, Lizzy Hewish and Kristina Lane for helping out on the bench.
 It was a pleasure to captain such a great bunch of Andrew's women who put in so much time and effort in training and the games. Lastly, a massive thank you to Clare Hunt and Georgia Boric who, whilst unable to play, still contributed so much.
Annabel Martin (Fr2018)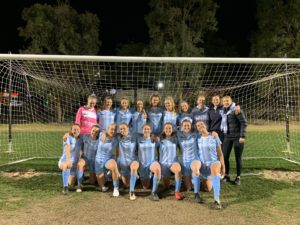 Photography by Emma Bills (Fr 2017)