Meet 2023 Andrew's Scholar Lily Webster. Lily (Fr 2023) is studying a Bachelor of Medical Science. Her areas of interests include creative writing, debating, community initiatives and academic pursuits.
Lily was born in Newcastle, and has lived there her whole life until moving to Sydney this year. She attended Newcastle Grammar School, where she was Dux and School Captain.
We caught up with Lily to find out more about her.
What are some of your hobbies, skills and achievements?
I was involved in co-curricular activities in school such as choir, debating, public speaking and participated in a model UN and mock trial. In terms of sports, I have competed for my school in athletics at regional level and cross country at state level. My more day-to-day hobbies include creative writing, listening to music, playing social sport with friends/family.

What made you choose St Andrew's College?
The idea of college has always interested me growing up – building friendships with people your own age and helping each other learn as you step into life as an adult. St Andrew's stood out to me as an environment where people are urged to strive for excellence. Being surrounded by such talented people, you are not only supported to fulfil your individual potential, but you also get the opportunity to appreciate, admire and support your peers as they too accomplish their own goals. I was also impressed by St Andrew's values, particularly the emphasis on 'actively pursuing human progress', 'critical thinking' and 'challenging authority that refuses to explain itself'. It was clear to me that St Andrew's is a place that is open to change, strives for improvement and resists becoming static on a path of constant progress.

What does being at St Andrew's Scholar mean to you?
In accepting this scholarship, you make a commitment to engage with all aspects of life to fulfil your potential including academics, sport, music, culture, development of personal character and your relationships with others. I intend to make the most of this scholarship and make a significant contribution to college life while I am here.

How has this scholarship impacted your experience of university?
I am extremely grateful to be a recipient of this scholarship, and likely would not have gone to St Andrew's without it. This scholarship means that the thought, care and effort that I put into my studies at uni and my actions at college are guided by an underlying sense of gratitude for the privilege I've been given.
What activities have you been involved with since moving to college?
So far I've participated in activities such as the leadership initiatives, Highland Ball, Victory Dinner, and We Need To Talk discussion groups as well as watching the Rawson, Rosebowl and Palladian competitions. I particularly enjoy getting involved with intercollegiate and social events hosted here at Drew's.
What are you looking forward to at Drew's in the upcoming year?
I am most excited to build upon the relationships I've formed with my peers at college. Already, college feels like a second home, and the people here feel like a second family. Additionally, I look forward to contributing to the intercollegiate competitions – whether that is by competing or cheering on my peers. Further, I am keen to get involved with the various volunteering/fundraising initiatives on offer including Newtown Mission and the Wings for Life World Run.
What has been your favourite memory at College so far?
It is incredibly difficult to choose just one favourite memory from college. The experience has been filled with amazing moments that are special for all different reasons – whether that's because they were fun, heartwarming, inspiring, challenging or a combination of all. Some of the highlights have been watching the Rawson/Rosebowl games, social events and the Highland Ball.
Do you have any advice for students considering applying to Drew's next year?
Going to college at St Andrew's is an extremely unique experience. The environment of support and success is incredibly motivating and provides you with the momentum to grow so much as an individual. Fleeting moments become lasting memories as the people you live with become your life-long friends. As someone who was very unsure of what I wanted to do after finishing year 12, I am so glad that I decided to take this incredible opportunity. I would encourage anyone seeking an engaging, rewarding and exciting experience of community living to apply to St Andrew's.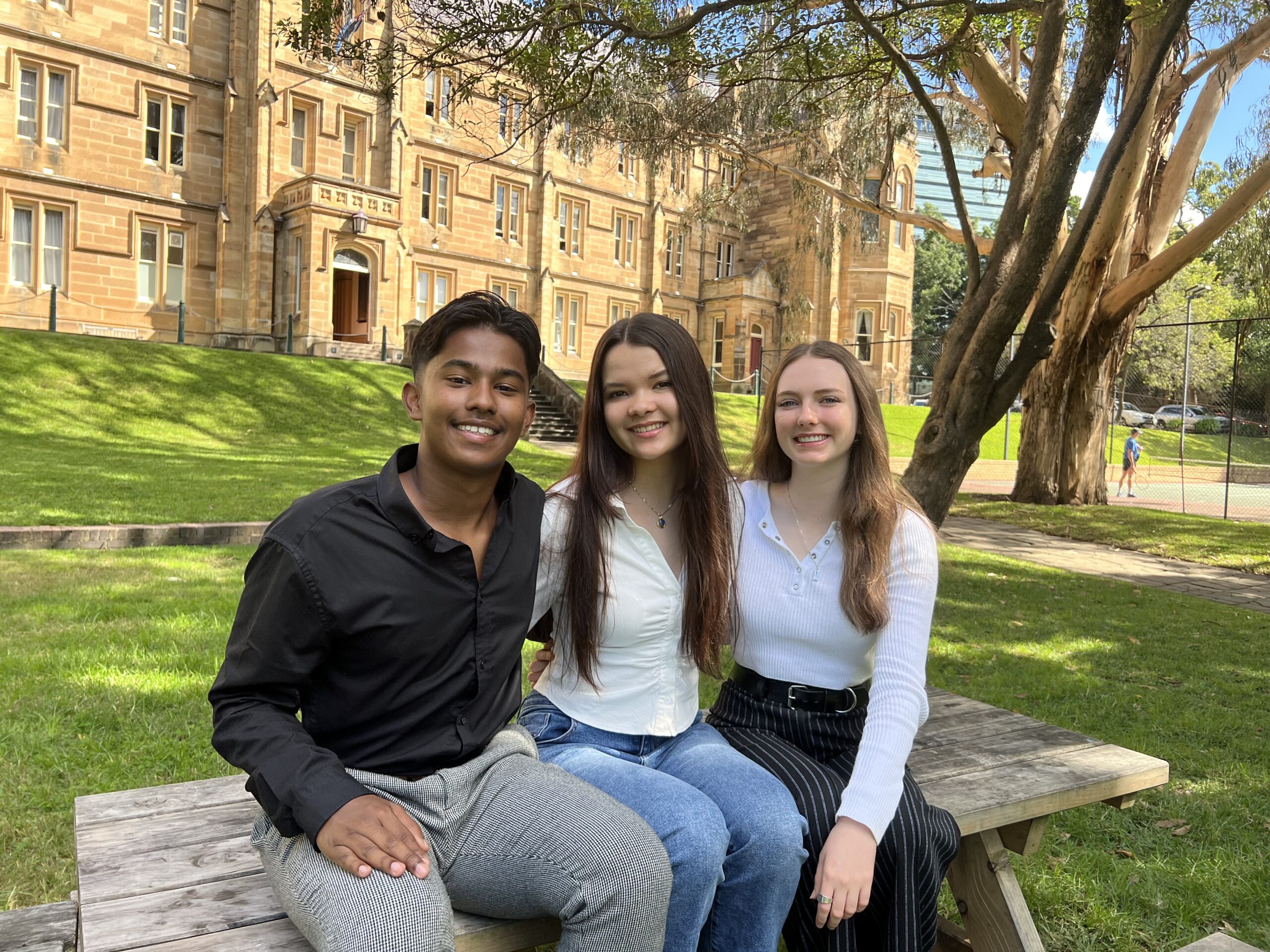 Our Andrew's Scholars are provided full fee relief for the duration of their time at college. Read more about another one of our 2023 Andrew's Scholars, Kokulaan Santhakumar.