An Evening with our Taylor Scholars
We had the privilege of showcasing our Taylor Scholar projects on Thursday 8 August.
Eleven presentations were executed in the challenging Pecha Kucha format during a sumptuous four course dinner in the Chapel. Attending this event were Charlie Taylor, founder of this scholarship, Principal Wayne Erickson, Vice Principal and Director of College Life Hester Wilson, parents, past Taylor Scholars and some current students who are considering applying to be Taylor Scholars in 2020.
Benjamin Stacy was an exceptionally competent MC who kept the tightly planned evening on schedule with relaxed confidence. The projects were grouped into Leadership projects (Ben Stacy and Kieran Bonin), Community (George Stribling, Tom Hicks and Edwina Hobson), Special Interests (Robbie Hayward, Tom Dowse and Zac Whitehead, and Arjun Prakash who delighted us with his snapshot of questions asked of his STANDROID app), and the final group was Inclusion which included Madeline McCathie, Nicky Craze, Molly Saunders and Rohan Browning.
The Pecha Kucha presentation format requires the presenter to talk to a set of slides; fifteen in this case. The slides are set to run continuously for a pre-determined time (here, five minutes). The Pecha Kucha format requires a lot of preparation and planning. It demands that the presenter talks strictly to the point. Most presenters rose to the challenge and very few slipped behind. Those that did were able to catch up and move on in a very professional way. I was extremely proud of all presenters and I look forward to working with next year's students.
Dr Diane Spencer-Scarr
Professional Mentoring Project Officer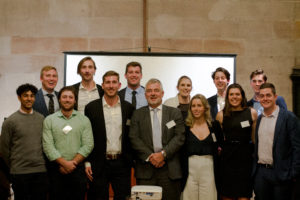 Pictured: Chair of Council, Charlie Taylor with our 2019 Taylor Scholars
Photographs by Euro Ruangvanish (Fr 2019)