This year, Sydney celebrates the centenary of the Archibald Prize. St Andrew's College congratulates the Art Gallery of NSW (AGNSW) on 100 years of hanging great, sometimes controversial, Australian portraits.
In the first fifty years of the Prize when the category of 'distinguished Australians' was more restrictively defined, many College people were the subjects of Archibald Prize finalists. Among them are the Premier Sir George Fuller in 1922, industrialist Andrew Thyne Reid in 1935, and theologian Revd. Dr R.G. Macintyre in 1942. St Andrew's is also fortunate to retain two Prize finalists in our collections by the prolific Reginald Jerrold-Nathan and Jean de Courtney Isherwood.
The Archibald Prize was first awarded in 1921, funded by a bequest from the publisher and journalist, J.F. Archibald. Ironically for the founder of a great portrait prize and in spite of his prominence, J. F. Archibald shunned the public spotlight. He disliked having his photograph taken and the AGNSW's only painting of him was made posthumously.
Although he was born John Feltham to Irish parents in Geelong in 1856, Archibald later changed his name to Jules François since the Anglophone appellation of his birth was inadequately bohemian. A French je ne sais quoi seemed better suited to Melbourne's literary scene.
With the benefit of this Ovidian transformation, Archibald went on to establish the Bulletin magazine in 1880 which published such writers as Henry Lawson and 'Banjo' Patterson. He was co-owner and had editorial control of the magazine during the period when its poetry, satire and political commentary led the national conversation. In his will, Archibald made two bequests, firstly to create the Archibald Fountain in Sydney's Hyde Park on the condition that a French sculptor be commissioned, and secondly to endow a prize of portraiture.
It is partly down to the prestige of the Prize that St Andrew's now has two distinguished portraits of College Fellow and Professor of New Testament Exegesis, the Revd. Dr Samuel Angus, and Principal, the Revd. Alan Dougan.
Professor Angus was one of Sydney's leading intellectuals and among the College's foremost Fellows from 1915 to his death in 1943. He is best known as another of our suspected heretics. An expert on ancient mystery religions, Angus was a Professor in the College's Theological Hall where he taught and wrote with great originality and independence. Indeed, his progressive ideas about the Trinity and refusal to believe in the divine inspiration of the Bible led to a long and cruel heresy trial which he bore with grace. Angus also served on College Council. His restrained portrait by Reginald Jerrold-Nathan hung in the Archibald in 1933 and now monitors the quality of conversation in the Senior Common Room.
Revd. Dougan (r.1957—1974) was the College's seventh Principal and the first to have been a student here. Known for his steady leadership and gleaming monocle, Dougan presided over a period of expansion for the College culminating in the Nosworthy Dining Hall in 1960 and Thyne Building in 1966. With an acute eye for history, it is Dougan who we may thank for the completeness of our series of Principals' portraits since no painting had been made of Revd. Dr Anderson after he retired in 1937. When Dougan sat for Jean de Courtney Isherwood in 1962, he arranged for the artist to paint his predecessor from a photograph. Isherwood's portrait of Dougan in oils hung in the 1963 Archibald and now serenely superintends student activities in the Dining Hall which Dougan built.
Although not finalists for the Prize itself, most of the artists who have painted Principals have at other times been hung in the Archibald. Judy Cassab created a fine portrait of Professor John MacIntyre in 1956, Frank Hodgkinson painted Revd Dr Hugh Cairns, and Francis Giacco painted both Principal Paton and College Fellow Stephen Salsbury.
Thanks to the generosity of friends, St Andrew's is also proud to hang Peter Churcher's colossal 2006 Archibald finalist 'Bruce, Linde and me on the road to Guadelupe'. This densely populated painting invites allegorical speculation in a way that is entirely worthy of its place of honour above the mantelpiece of the Senior Common Room. Churcher's monumental painting is on loan to the College and we are deeply grateful to its owners for sharing this artwork with us.
The founders of the College believed it was their responsibility to foster 'a due appreciation of the sublime and beautiful in art and nature' rather than merely to produce 'clever business men'. In fulfilment of this duty, the College has at enlightened moments added fine works of art to our collections for the contemplation, enjoyment and improvement of students and fellows alike. We are currently the custodians of paintings by many distinguished artists, including John Ruskin, Grace Cossington-Smith, Ray Crooke, Willie Junari, Paul Newton, and a sculpture by Michael Snape and Agatha Gothe-Snape which is soon to be installed at the south-western corner of the grounds.
Alex Wright (Fr 2015)
Head of Arts & Social Sciences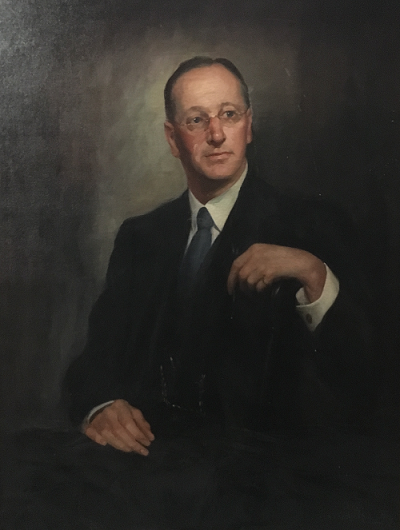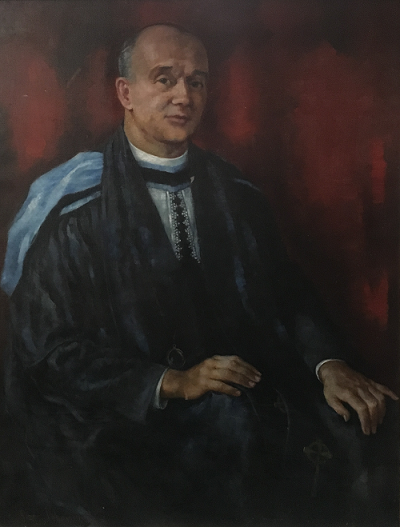 Centre Image: Peter Churcher's 2006 painting 'Bruce, Linde and me on the road to Guadelupe' hung in the Senior Common Room at St Andrew's College.
Left Image: Reginald Jerrold-Nathan's 1933 portrait of Revd. Prof. Samuel Angus D.D., D.Litt., Ph.D.
Right Image: Jean de Courtney Isherwood's 1962 portrait of Revd. Alan Dougan.