Congratulations to St Andrew's students Eleanor Price (Fr 2020) and Laura Gourley (Fr 2020) who have been selected to represent Australia in the Under 23 rowing team.
Eleanor, who rows at Sydney University Boat Club and Laura, who rows at UTS, are competing together in the quadruple scull. They were selected after tough competition at the National U23 Regatta in Tasmania in March.
The women join Andrew's fresher Gordon Appelcryn, who was selected for the U19 double scull, and St Andrew's alumni in the senior team Paddy (Patrick) Holt (Fr 2017), David Bartholot (Fr 2015) and Campbell Watts (Fr 2014). Unfortunately, Wallis Russell (Fr 2018) was injured.
This is Eleanor's second opportunity to represent Australia. Eleanor, who is studying a Bachelor of Science (Dietetics) said:
"It's always an honour to put on the green and gold to represent Australia. Unfortunately, we were unable to go overseas due to Covid 19 but it was a fantastic experience to be able to race alongside the top crews in Australia as well as Androvians past and present."
The call up is Laura's first time to represent her country. Laura, studying a Bachelor of Science majoring in Agriculture said:
"It's very exciting to be selected to row for Australia and get the honour to wear the green and gold."
Last week they were competing in the National Team's World Cup III Simulation Regatta in South Australia. The Senior, Para, U23, U21 and U19 Australian Rowing Teams took part in the World Cup Simulation to give them valuable experience of competing against the top competitors.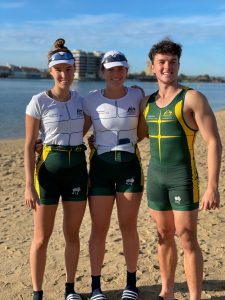 Pictured: 
Eleanor in the bow seat and Laura in the 3 seat
L-R: Eleanor Price, Laura Gourley, Gordon Appelcryn in their official Australian colours