Drews leads Palladian Cup after Victory in Solo Drama
Audience members present at the Palladian solo drama competition were once again treated to a spectacle of challenging, engaging and entertaining theatre.
Following a lengthy audition process, it was decided that Alice Litchfield (Fr 2019) and Will Cottle (Fr 2018) would represent Drews. Both pieces challenged and showcased the skills of our Drews performers. Alice performed a deeply emotive rendition of 'What's the matter with Mary Jane?' – an unnerving monologue centred around insecurity and anorexia in youth. In contrast to the serious tone of Alice's performance, Will performed an interpretation of the frantic and comedic beat poem 'Storm' by Tim Minchin, in which an Englishman tries (and fails) to rationalise the beliefs of an Australian 'hippie' at a dinner party.
After weeks of preparation, both Will and Alice were able to refine and master their pieces, providing Andrew's with one of the strongest pairs in recent history.
As always, the Palladian competition proved fierce. With a variety of different pieces and performances on display, each performer should be applauded for the nuance and energy present in every piece.
Alice was our first performer of the night and entranced the audience with strong facial expressions and controlled, purposeful movements. Alice perfectly imbued an uncomfortable humour throughout the chilling narrative, masterfully shifting from vulnerability to frustration to illustrate the insecurity of her character. When addressing an issue such as anorexia, it's very easy for performers to come across as contrived and disingenuous. Yet Alice not only respected the subject matter, but truly embodied it in a performance worthy of the highest praise.
Following a promising start from Alice, Will wrapped the night up in fine fashion, embodying a dogged and hysterical character, one who was bursting with energy as he constantly navigated the stage at a frantic pace. Despite the frenzy of his character, Will still managed to time his comedy seamlessly, striking a key balance between hilarity and sincerity. This blend of comedy and didacticism kept the audience in a constant fluctuation between laughter and reflection by tying the comedy of Minchin to the existential subtext of science and philosophy. Will's piece was a fine end to the performances and capped off what would prove to be an outstanding night for St Andrew's.
Following Will's performance, an expectant Drews crowd waited anxiously for what seemed like an eternity to hear the judges' verdict. In spite of the pedigree on display across all 12 performances, our Androvians were justly rewarded for their stellar efforts, with Will earning a 4th place finish and Alice deservedly taking home 1st place on the night in a performance which the judges described as "the winner by some margin."
Congratulations to both Alice and Will for facing the packed intercollegiate crowd and having them in their pockets for the entirety of the performances. Both competitors represented Drews fantastically and the College could not be prouder. Additional thanks must be given to the droves of Androvians that came out to support. Your engagement and laughter in what was a hostile intercollegiate crowd was a big help for our competitors.
Most crucially, this result has reinstated St Andrew's atop the Palladian leaderboard.
Will Cottle (Fr 2018)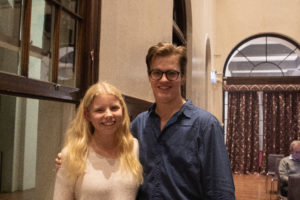 Pictured: Alice Litchfield & Will Cottle