James Stokes (Fr 2013) started off his career working in consulting, but has recently transitioned to managing the Murrurundi Michael Reid Gallery and working on his own art and music projects, releasing his first singles 'Atlas' in 2022 and 'Headed Country' this month. In this Q&A James gave us insight into his favourite Drew's memories, a recent change in career path, as well as his love for the country and the decision to move back from the city.  He also discussed the inspiration behind his new music and the progression of his artistic skill and projects over the years.
Please tell us a little more about yourself – where are you originally from and where did you grow up?
I grew up on farms near Tamworth and Merriwa. I was the youngest of six and we had another 15-20 people living on our property at any one time, some (most) of them very colourful characters. Mum would often feel sorry for a local patient doing it tough, so they'd end up living out on our place. Our home was a very fun and exciting environment – it was quite the menagerie, with pet kangaroos, sheep, dogs and cats, one of our tenants even had a pet pig "Rosie". But everyone was very easy-going, so I'm sure that rubbed off.
What were your favourite memories from College and what were you involved in while you lived here?
I remember turning up to O-Week on crutches, after just having my third major knee operation. Not the best start – the first two or three months the security guards graciously drove me around to classes.
I tried to come back to rugby that year but injured my knee again, so the boots were hung up. This was frustrating but I did get involved in athletics which we won twice, I think I was the discus/shot put rep for Drew's. Fortunately, the College was dominating on a lot of fronts when I was there (no thanks to me) which meant we had a VD almost once a week. These were a lot of fun. I was quite good friends with the rowers, so I found myself living their lifestyle (without the high intensity training) this entailed plenty of long and lazy coffees down at a very understated café called Cordial. A friend also had a PlayStation 4, so we had a fairly intense 'Call of Duty' competition.
Last year, we celebrated 20 Years of Undergraduate Women at St Andrew's College. How do you think the College changed and adapted during your time here and since leaving?
The female culture at the College was pretty strong and embedded by the time I got there. I went to an all-boys boarding school, so it was a nice change for me. Some of my best friends are women that I was at Drew's with, so it's hard to imagine the College devoid of this aspect.
After completing your undergraduate degree you went on to do a Master of Economics. Why did you decide to pursue your education further? How has this helped get you where you are today?
The degree was a good project. I wasn't the most diligent student at school or college and felt that my education was still a little incomplete.
I majored in economics and finance in my BCom and really enjoyed the economics subjects. Optimisation and efficiency is something I'm always striving for and these are core aspects of economics. I definitely applied myself more during the master's degree and tested myself. I was lucky to spend six months over in Frankfurt finishing off the degree which was a great experience in itself. My career has taken a different direction but as strange as it may seem, I do think the MEc has helped even in the art world. It's a valuable point of difference, and helps me to look at things in a slightly different way.
You are currently the General Manager at Michael Reid Murrurundi. Could you tell us about Michael Reid Galleries and what your role involves?
Michael Reid Galleries is a conglomerate of six independent galleries – five in Australia and one in Berlin. My job is to make sure Murrurundi is running smoothly and we are selling plenty of paintings. I'd say 90-95% of our art sales are online, so there's a massive focus on online presence, marketing, social media etc. My role is to coordinate exhibitions, build demand and make sure there's an appropriate supply.
There's still an aspect of consulting in what I'm doing, which is nice.  A lot of my work at the gallery is behind the scenes. The routine is more aligned with the other Sydney galleries, working with the team there, so there's quite a bit of organisational work which applies across all the Michael Reid galleries. But then other times I'll be patching, painting and hanging works in Murrurundi, so it's nice and broad. The art world is quite unique and is in an interesting space at the moment. Covid was a golden age for online shopping, and that was no different for people buying paintings.
Could you tell us about the transition from the consulting world to managing the Michael Reid Gallery in Murrurundi? What led you to make the switch to this new career path?
There were a few factors leading up to the change – 1. I was financially comfortable enough via my own art practice that I didn't need to keep working in the corporate world. 2. I wanted some more time and freedom to allocate to writing and creating country music, and 3. I was quite keen to move back out to the country.
These factors were building and at the same time I wasn't getting much fulfilment from my job.
So I took the plunge, quit consulting and started doing artworks full-time. I could've kept doing my own thing full-time but I had an offer on the table from Michael Reid to help him with his company and I thought this could be another interesting step into the art world. My current circumstances give me the flexibility to pursue my own art and music projects and manage the gallery. While I'm just as busy now, I've got full accountability and freedom which I love. I can run my own show and create the balance which suits me.
What has been the biggest change or challenge in moving from Sydney back out to the country? And what has been the best part about the move?
I spent around 15 years in Sydney (including high school). I had some good times in the city, but always found myself getting out whenever I could. Living in the city gave me a new perspective on community and freedom, so I appreciate country life more for having lived there.
The transition has been pretty easy. Luckily the community here around Scone is very strong, and having grown up not far from here I know a lot of people. The best part of living in the country is the time and space it gives you. I can think about things more objectively without being stuck on the hamster wheel. Fortunately, it's only three hours from Sydney, so I can duck down as needed – (I still spend around a week each month in Sydney). I will probably always have some balance of both city and country. But I much prefer living in the country and driving to Sydney as required rather than the reverse.
You released your first single 'Atlas' last year. Congratulations! Can you tell us about the inspiration for this song and what was the process involved in creating it?
Atlas is a song about my late mother (Atlas being the Greek god who held up the world – and a metaphor for mum). I wrote the song in COVID times. At this stage I was living in the city working in management consulting, but working from home. The busy periods were fine but during the quiet times I could get a little bored, so I started writing music to fill the gaps in the day. It was very therapeutic and the first time I'd played consistently since I was 10 or 11.
After years of being very light on social media, I started an Instagram. I popped a few artworks and songs up; they got some traction so I kept rolling with it. I decided I wanted to follow the process through of creating and releasing a track (Atlas). The project grew, and I teamed up with a top producer to record it, and a talented videographer to create the music video. The song was released in August last year – definitely exceeded any expectations I had for it, it and garnered quite a bit of media and radio attention.
You recently released your new single 'Headed Country'. Can you tell us a little about this song, and how the production process may have differed from that of your first single?
Headed Country is basically about my move from city back to the country. It has an upbeat, easy listening, slightly tongue-in-cheek vibe, so it's a very different style to my first song.
I co-wrote this one with Rod McCormack and Sally Barris from Nashville – that's the major difference in the production process. We shot the video across Sydney and up near Scone where I'm living at the moment. It's fresh off the press this one – so will have to wait and see how it goes.
You're also a very talented artist and create amazing portraits using oil paints and graphite. How did you develop this talent and what are you currently working on?
I did art at school but I've probably always had a little knack for drawing and painting. In early 2021, I started doing them more commercially. Social media was a big driver in building up the commission backlog. I've tried to dial back the commissions this year and will focus more on exhibit style pieces. I had an exhibition recently, which I did some oil paintings for.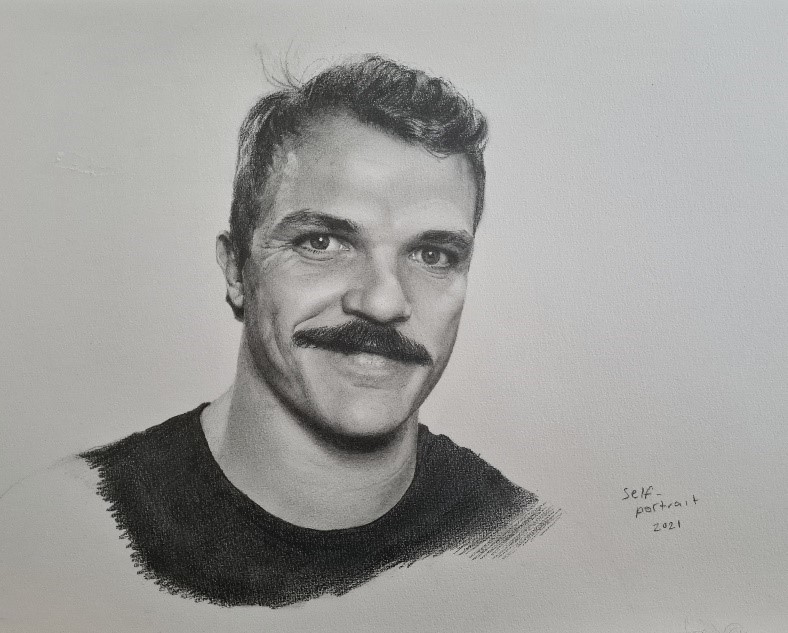 What do you enjoy doing outside of work? (Besides all of the above!)
I enjoy spending the odd day doing absolutely nothing, going out for breakfast and spending some time thinking about the next few weeks. I drive a lot, which I actually enjoy, and this is often when I plan things out and come up with ideas.
What are you reading, watching or listening to at the moment that you'd recommend to others?
Haha my new single!
Do you have any career advice to give young Androvians?
I had no idea what I wanted to do when I was at College. I studied commerce which I felt was a good hedge, as it could be applied to a lot of different industries/areas. Even though my career has gone a different path I'm glad I studied what I did. I think if you have doubts about what you want to do, just get involved in as much as you can and try to build some perspective. For me, I found more value in learning what I didn't want to do, than what I did want to do. There's nothing wrong with trial and error. If you can get a taste of different fields through friends or part-time jobs this can be very valuable.