Jessica Harper came to Drew's in 2013 as the Dean of Students and is a fourth generation Androvian. Working as a classical singer and residing in Europe, Jessica discussed with us her love for opera and the challenges and opportunities that have arose from making the move overseas to further pursue a career in classical music. She dove into how aspects of Drew's have progressed over the years and how the College helped to support her singing career, whether that was practice spaces or both formal and informal concerts. Jessica spoke to us about her favourite memories from her time here at Drew's and offered some words of advice for any Androvian's looking to pursue a career in music.
Please tell us a bit more about yourself – where are you originally from and where did you grow up?
I'm originally from Sydney. I grew up on Gadigal land, in Darling Point, and I had no idea how beautiful it was until I didn't live there anymore.
How did you come to reside at St Andrew's College?
Having just finished my undergraduate degree and a job as Community Coordinator at the Australian National University and Ursula Hall respectively, I returned to Sydney to find work as a singer and continue my side hustle in Pastoral Care. Wayne called me and brought me in for an interview, and then offered me the Dean of Students role at Drew's. I started in July of 2013.
What are your favourite memories from College and what parts of College life were you involved in during your time here?
My favourite memories mostly include late nights in the SCR chatting over tea (or occasionally something stronger that we hid in various corners of the room) and time spent making music with other musicians who lived in the college. That, and the endless cups of tea shared with students in my role as Dean of Students. It was extremely rewarding to see some of them flourish into very capable adults while at college. I learned so much from the students and benefitted enormously from being around their incredible energy for so many years.
You arrived at Drew's in 2013 as Dean of Students and a member of the Senior Common Room, then as the inaugural Artist in Residence. How did your college experience change as you moved through different roles in the College?
The longer you live somewhere like Drew's, the more you become part of the furniture. The daily triumphs and disasters become much easier to predict and to sail through (couldn't resist a nautical metaphor – cheers Rev!). While I adored it, the Dean of Students role always had an end date – the 'on call' nature of that role was extremely challenging, in that some weeks I and my colleagues would barely sleep because there were issues popping up constantly, and always late at night. After five years it was time to move on from that role, but I was incredibly fortunate to have been awarded Artist in Residence straight afterwards.
I moved from Main to the Gatehouse, and that meant that my day to day involvement with the college lessened. I loved and valued the time I spent with the musicians and actors among the students, but this role also let me pursue my career as a singer with more clarity (and a very good sleep schedule!)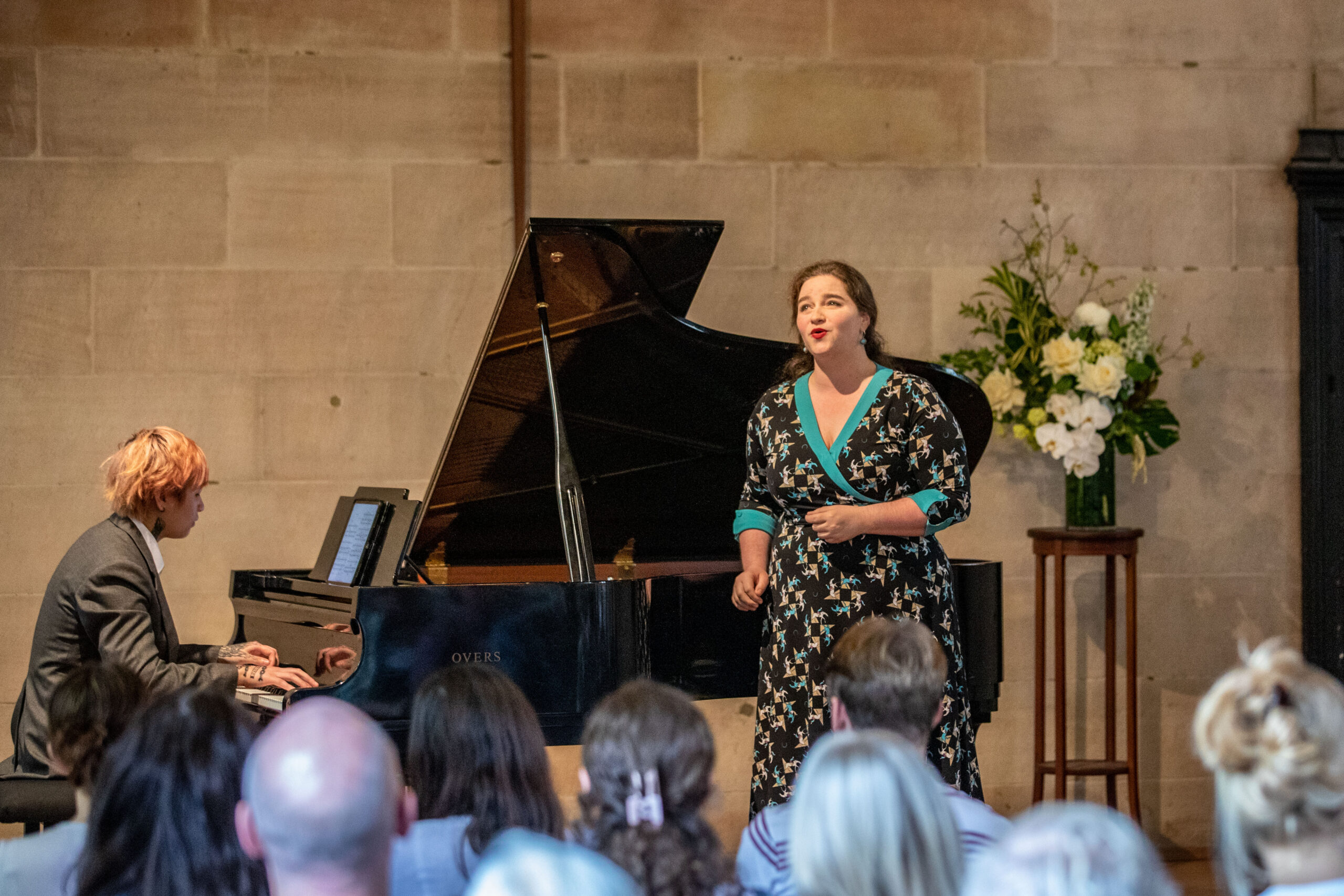 You are a fourth generation Androvian with your Great Grand Father Reverend Dr Andrew Harper, Grandfather Ian Harper and father The Hon Justice Robert Harper are all a part of the Drew's community. Your sisters Rebecca Harper (Fr. 2007) and Elizabeth (Lily) Harper (Fr.2017) were also here for their undergraduate degrees. How have you seen Drew's change through the lens of your other family members and are there any funny stories to share?
Drew's has changed enormously over the last century, as we all know. Most recently I'd say there has been a shift from a big sporting focus, to a focus more equally spread across Culture, Academics and Sport, which I personally think is very healthy. I'm proud to see the College as a whole adopting a wiser approach to the party culture that is ever present across all of Sydney University.
My favourite story from Dad's time at Drew's is of him wandering back from a party at one of the other colleges. He was exhausted and finally reached the oval, where, low and behold, there was a bed, with sheets and everything just waiting there. He climbed in and fell asleep immediately. He was woken at daybreak by the sounds of his rugby teammates starting their warm ups (where he was also supposed to be). It was only then in the morning light that he realised he was sleeping in his own bed, and all of his furniture was arranged around it, in the middle of the oval.
Suffice to say, returning all of his furniture back to his room was more of a chore for him than putting it on the oval had been for his mates the previous evening.
What career path did you want to follow while you were in College? Have you ended up where you expected?
I've always been obsessed with music, and classical music in particular. I am proud and fortunate to say that I have indeed ended up where I expected. I am now a working classical singer, and I made my operatic debut this year in one of the best opera houses in the world. There are more contracts coming too. I couldn't be happier!

College had a big part to play in making that happen. Musicians need spaces to practice every day, and they need opportunities to perform as often as possible. The constant concert opportunities (both formal and informal) at college and of course access to several practice rooms was absolutely crucial to my continued development as a classical singer during that time of my life.
When did you discover your love for Opera singing?
I discovered my love for singing before I began to speak as an infant, and I discovered opera at age 11 when I heard Puccini's La Bohème for the first time. I've never looked back.
Where do you hope to see music at College going in the future?
Music at College remains at a high standard, as I heard this year when I attended and performed at one of the Coffee Concerts. I was very pleased about this, and thankful to the outgoing Director of Music Sarah Penicka-Smith for all her great work over the years.

I hope the students will continue to form ensembles and keep getting creative together. The talent that comes to Drew's will always be nurtured, and it's the sort of place where you can start a chamber choir or a jazz band (in addition to the existing ones) and really flourish.
What has been the biggest challenge in moving to Germany and now Belgium and what have been some of the highlights of living overseas?
With any move to a new country there will always be challenges getting used to new tax systems and culture shocks, but the biggest for me in recent memory was getting through the pandemic while being locked out of my own country. Germany were vey kind and rolled over my bridging visa several times, which allowed me to stay in Dresden with my now husband. Once things opened up slightly and we could start studying again the immigration question became easier to deal with, and now I'm a permanent resident of Belgium.

Those hardships aside, there have been incredible highlights too. As I mentioned above, I made my debut at the Semperoper in Dresden in September this year. This opera house has such a decorated and special history, and it's orchestra is the best in Germany – second only to the Berlin Philharmonic. The classical music world in Australia has been so terribly decimated that I doubt I would have managed to crack the industry at all if I had come home in 2020. To put it in context, Opera Australia is the only full time opera company in Australia, and in Germany alone there are in excess of 150 full time opera companies. There is plenty more work to be found in this hemisphere, which is a definite highlight.
What made you decide to undertake a Postgraduate Diploma at the Royal Conservatoire of Antwerp? How did you find returning back to studying?
I was looking for something constructive to do after the worst of the pandemic. I had been incredibly self sufficient and learned an enormous amount of music, attending the small handful of auditions on offer and competitions, but I was craving some structure again.

My teacher in Antwerp gave me a fantastic lesson over Zoom, and that was enough to convince me. The cost of a year of Postgraduate study as an international student is also only €4,000 (roughly $6,000 AUD), which, for an Australian, is a laughably low fee for higher education.

I adored my time back at University. Going back to what I said earlier about being around student energy – there's nothing like it! Of course having all the performance opportunities too and so many singing lessons and coachings was incredible. It was a wonderful way to get back into the pre-pandemic pace of life.
What do you enjoy doing outside of work (and all of the above!)?
My favourite thing to do is cooking, and especially cooking for other people. That was certainly a silver lining from lockdown after lockdown – my culinary skills are significantly better than they were in 2019! I also love hitting the gym, and weight lifting. A long bush walk is also a source of enormous pleasure for me.
What are you reading/ watching or listening to at the moment that you'd recommend?
Reading: My Name is Lucy Barton by Elizabeth Strout, Apples Never Fall and Big Little Lies, by Liane Moriarty, Cloudstreet by Tim Winton and Die Nacht, Die Lichter: Stories by Clemens Meyer
Watching: Unorthodox, Stateless, Derry Girls, Inside Job, Fisk and anything involving Phoebe Waller-Bridge
Music: Night Flight – Kate Miller-Heidke, On Eternal Love: Romantic Lieder – Taryn Fiebig and Scott DaviePodcasts: Jamie'zing, Ladies We Need to Talk, The Guilty Feminist, IWeigh with Jameela Jamil and Wilosophy with Wil Anderson
Do you have any advice for Androvians looking to pursue a career in music, and specifically opera?
Get over to Europe as soon as you can. The nucleus of classical music in particular is here, and, while Australia has a lot to offer, there is so much more to be found all over Europe.
Take language learning seriously, and make sure you're prepared to work extremely hard.
This is a difficult industry, and a lot of the time it's gruelling and thankless, but this comes to mean nothing if you're lucky enough to 'make it' and earn a decent living from your craft.
Don't ever forget how important story telling and music is to all of humanity. You only need to look at the comfort found in these art forms when the world shut down for two years to see how essential you are as an artist.
St Andrew's College has over 6,000 alumni living thoughtout Australia and around the world. To read more about some of our alumni members, please go to the 'Where are they now?' page.