Jessica Wright (Fr 2015) was responsible for the creation of the first ever St Andrew's College String Quartet, which still continues at the College today as a successful musical group. Jess' passion for music was sparked at the age of four and has only grown since. She has developed a particular love for music created by our First Nations people and relocated to Alice Springs to teach middle school music, simultaneously falling in love with the local community. Jess has been involved with a number of musical groups including the Women's Community Choir group, the 'Desert Peas', the Central Australian Aboriginal Women's Choir, the Music Outback Foundation and was the Concert Master for Anne Boyd's Olive Pink Opera last month. Jess released her own solo EP, 'Petrichor', in January 2022 and shared with us the inspiration and process behind producing the six songs as well as some potential ideas she has for contributing to future development of the St Andrew's College Music Program.
Please tell us a bit more about yourself – where are you originally from and where did you grow up?
I was born in Armidale NSW, where I spent my childhood and teenage years. I began playing the violin at age 4, sparking my passion for music. I was involved in lots of musical groups throughout my schooling at Presbyterian Ladies College Armidale, including a string orchestra, string quartet, school orchestra and Armidale Youth Orchestra. I developed a passion for singing through the school choir and vocal ensemble. I scored a lead role as Eponine in The Armidale School's production of Les Miserables.
My parents supported me in a balanced lifestyle, where I was able to compete in hockey, swimming, waterpolo, athletics and touch footy. I also worked hard on my academics, and pursued English Advanced, Mathematics, PD/H/PE, Drama, Music 2 and Extension Music for my HSC. I really enjoyed studying these subjects.
In 2014, I complete a Gap Year at Felsted Preparatory School, Essex, UK. I coached sport and worked in the boarding house there, as well as gained some experience in classroom music teaching and leading the junior orchestra. It was my gap year in England that led me to want to pursue a career in Music Education at the Sydney Conservatorium of Music.
Why did you choose to reside at St Andrew's College?
My mother resided at Wesley College during her time at Sydney University and encouraged me to do the same. As a country girl, I knew this would be a fantastic opportunity to connect with students of similar ages and interest, and throw myself into college life. My cousin Alex Wright was the year above me, so it was nice knowing that I could potentially reside in a college with family.
I also was interested in being involved in the strong music program at St Andrew's and applied to run the String Ensemble, and being involved in the Rosebowl sports.
What parts of College life were you involved in during your time here?
In my Fresher year, I ran the St Andrew's String Quartet, and was involved in Rosebowl Hockey and Soccer teams. I was also involved in Palladian Group Vocal.
Second Year saw me expand the String Ensemble, and we took out the Group Palladian performance with Astor Piazolla's Libertango. I was also involved in the Rosebowl soccer team for a second time.
Third Year I continued to expand the String Ensemble and this was becoming quite a strong aspect of college musical life.
In my fourth year of University, I came back and started a String Quartet which rehearsed regularly and performed music for various college events.
You mentioned earlier that you brought together the first St Andrew's College String Quartet. This initiative has gone from strength to strength in the years since, with St Andrew's taking out first and second place in the Palladian Group instrumental with a String Trio and String Ensemble last year. What drove you to form the first string Quartet?
Oh how exciting! I didn't realise the legacy had continued on!
After running the String Ensemble at College for the 3 years I resided there, I thought about how I could continue to contribute to student life at Drew's. I applied for a Taylor scholar and was successful in the award. This scholarship allowed me to continue my strong connection with Drew's and provide a platform for residents who wanted to take their music to the next level.
Music is a real strength of college life at Drew's, so it's great to see it is still going strong!
Where do you hope to see music at College going in the future?
I hope it continues to grow! Between the Choir, String ensembles and Jazz Band, Drew's has a lot to showcase. Maybe Drew's could look into running some music workshops with alumni, mentoring music students and student leaders of various ensembles. I know that many of the musical alumni are off doing great work in the world and have a lot to offer.
I would even be happy to come in and work with students on an annual song writing workshop if that was an interest of the students, working towards an intimate showcase for the students. Maybe even an originals music festival? Provide a different platform to Drewtopia and the various other festivals run by other colleges.
You are now working as a middle school music teacher at Our Lady of Sacred Heart in Alice Springs. What drew you to teaching music and why did you decide to work in such a remote area?
Whilst studying at the Sydney Conservatorium of Music, I developed a passion for music created by our First Nations People. As a music educator, it is my duty to present First Nations Artist's work to my students, and strive to present it in a way that is sensitive to their culture. This passion lead me to adventure to Mparntwe, Alice Springs when I was in my final year of university, to work for linguist, Myfany Turpin. It was this experience in Central Australia that unlocked something in my brain, and inspired the musical bones in my body! I was able to perform my songs outside of my college bedroom at a local open mic night, join a gypsy jazz band, a Klezmer band, and adventure and work out bush for the first time. Not to mention, the community here is pretty incredible. People are so generous and welcoming.
You have also worked with the Central Australian Aboriginal Women's Choir. Could you tell us about who makes up this Choir and what your work with the group involves?
This has been one of the most humbling experiences. I first came across the CAAWC in an Australian Story, sharing the Women's stories and their recent tour to Germany. I was instantly inspired by Morris Stuart and the choir. I first connected with the CAAWC at the 2019 Desert Song Festival, soaking up their unique and beautiful sound, soaring through Ormiston Gorge. In August 2021, I was fortunate to be invited out to Ntaria, Hermannsburg, to assist the Women in learning a new excerpt for the upcoming Olive Pink Opera (which was unfortunately postponed two years in a row). In October this year, we performed together in the performance of Olive Pink Opera, as an extension of the Desert Song Festival. I held the roles of Concert Master of the Orchestra and children's choral director, with 20 of my students from school. It was a pretty special experience!
Congratulations on being named the Concert Master presenting Anne Boyd's Olive Pink Opera! Can you tell us a little bit more about how this opportunity came about?
Yes, in 2019, I was approached by Claire Kilgariff, not long after I moved to Alice, to be a part of this exciting project. It has certainly challenged me in ways I could not have anticipated, however, I am truly grateful for the experience.
Congratulations on receiving a National Council of Women Australia Day award in 2020 for early career work and leadership in Music Education. Could you tell us more about this work you were doing that led you to receiving this award?
Thank you! It was an absolute honour and totally unexpected. I was nominated by one of my lecturers from the Conservatorium of Music in Sydney, and fortunately was granted an award. It was such a special day heading to Parliament House in Sydney, standing alongside a group of other young women who were being recognised as future leaders in their fields across all sorts of workforces. I suppose the work I began doing in the NT in 2019, and the commitment I had made to reconciliation through music education, as well as my passion for all young people to have the opportunity to develop their singing voices, all kind of lead to this!
One of the most significant experiences I had had in 2019 was heading out to Tara Community on Kaytetye Country with the Music Outback Foundation. I worked alongside the founder, Steve Berry, writing songs in Kaytetye language and English. This was such a formative experience for me and I still carry many of the skills I developed out there with me today. I know in my heart I will certainly be doing more of this work in the not too distant future. Incredibly rewarding and powerful work.
You released your solo EP in January 2022 – 'Petrichor'. Congratulations! What was your inspiration for this album and what was the process involved in pulling this collection of songs together?
Gosh yes thank you! It was such an epic project! I don't think I could've anticipated recording so soon, back when I was living in Sydney! I'd only just started my song writing journey then.
I was very lucky to have been awarded an NT Create and Release Grant, out of the impact of COVID in the Territory. This afforded me the opportunity to work with local sound engineer, producer and multi-instrumentalist Ross Muir. I connected with Ross when I first came to Alice, and he really took me under his wing, so it only felt natural to record with someone who I felt like I could be comfortable around, and someone I knew would bring the best out in me. And he did!
Petrichor is a collection of the first 6 songs I ever wrote. When I was 20, my aunt introduced me to the word and I had an epiphany, thinking that it was going to be my favourite word; meaning, the smell the Earth makes after the first big rain. Petrichor is a big concept in Drought Song, which describes the changing landscapes through natural disasters we've experienced in Australia, and the impact it is having on communities.
I'm already super eager to get recording again and put out some new stuff! But you can go check it out on all the platforms.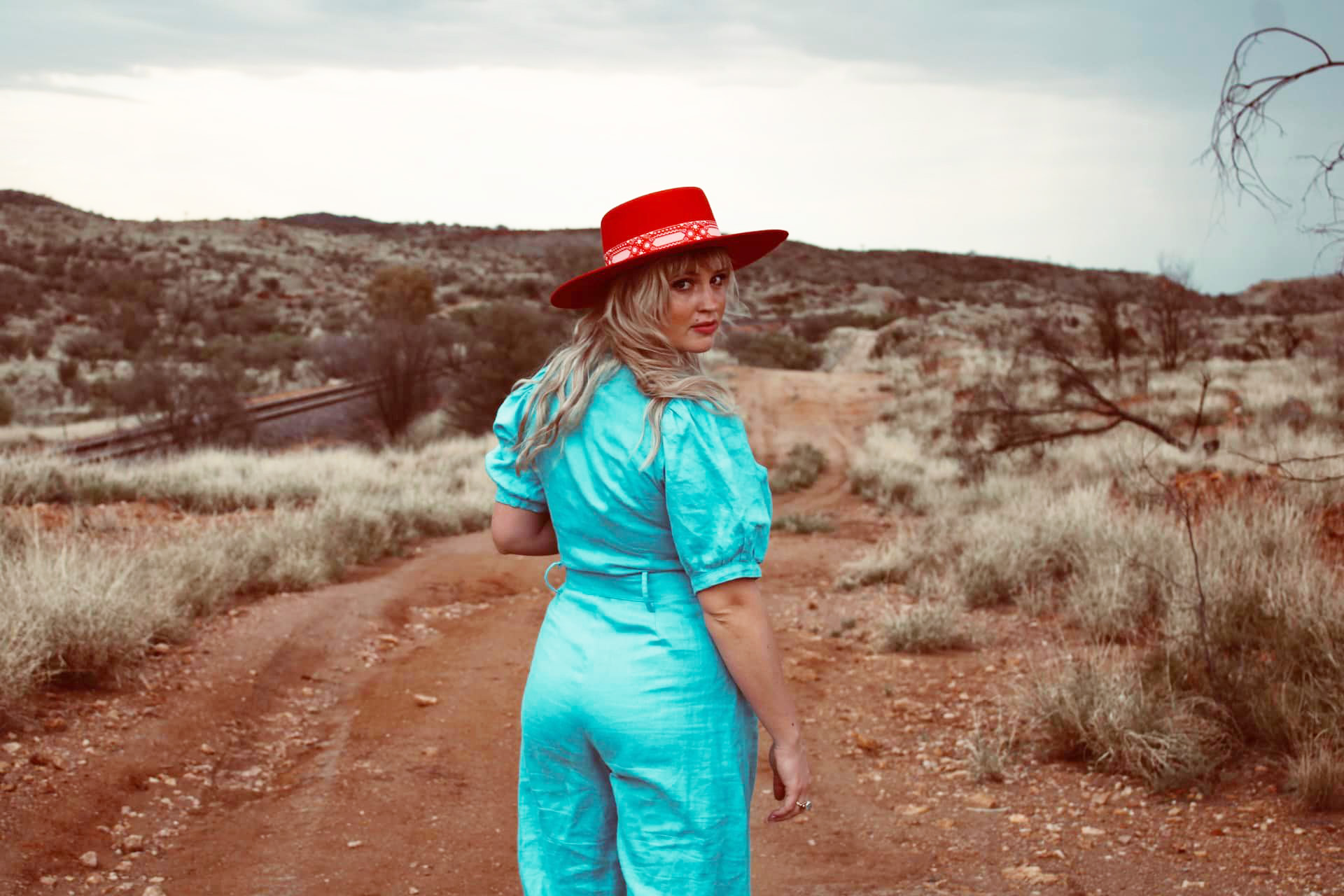 What do you like to do outside of your work?
Music! If I'm not teaching, my mind is often occupied by what gigs I have coming up, new projects, and being creative! I have a pretty diverse musical experience in Alice Springs and that keeps me on my toes for sure, never a dull moment!
I so enjoy exploring the landscape that surrounds Alice, whether it be camping or hiking, watercolours out bush, it's forever inspiring to be in this place.
I also love a good social time, hanging out with my mates, particularly at the Jump Inn Jam nights on a Tuesday (it's likely you'll find me there).
I have just started up my Women's Community Choir again, the Desert Peas, inspired by one of my great Sydney based mentors, Anna Humberstone. The idea behind this choir aiming to build women's confidence up in their own singing abilities! Particularly those women who may have lost confidence through a shaky experience as a child.
What are you reading, watching or listening to at the moment that you'd recommend?
Oooo excellent question! I am currently reading Grace Tame's new book, The Ninth Life of a Diamond Miner. I think Grace is such an incredibly powerful young woman and I am so compelled by her every time I hear her speak.
There's some fantastic TV shows coming out of Central Australian Filmmakers, including Robbie Hood, The Australian Wars and True Colours (All on SBS) and the most recent season of Mystery Road.
I also highly recommend listening to Clare Bowditch's audiobook Your Own Kind of Girl.
Do you have any advice for Androvians looking to work in music or music education?
Ensure you seek opportunities that will fulfil your musical passion and allow you to connect with people who are on the same page. The music industry can be pretty brutal and it's important to continue to build resilience and strength through working in music. I would encourage anyone who is studying music education to keep your eyes open to a variety of music, from all cultures, and immerse yourself in experiences that will challenge you and allow you to grow. Definitely go and do a rural prac for SURE! The country need more teachers out bush. And please reach out if you have any questions!
You can find Jess's music under her stage name Jessie May on Spotify, and @jessiemay.music on Instagram.
St Andrew's College has over 6,000 alumni living thoughtout Australia and around the world. To read more about some of our alumni members, please go to the 'Where are they now?' page.