Following the retirement of former St Andrew's principal Dr Porges in March 2008, the College was gifted a perfect successor in Mr Wayne Erickson. Fast forward 15 years in the role, Wayne will pass on the baton, having lifted the College to an unprecedented level of success and innovation.

The former Scots College house-master and ARU General Manager (Operations) was well-fitted for the position, having toured the United States and its best Ivy League universities for the benefit of our collegiate future. Under his vision, the College Council approved a major plan in 2012 for the development of our infrastructure and modernisation. Four hectares of ground became the fixation for a cracking site, which would revolutionise the educational facilities of St Andrew's.

Five years into principal Erickson's tenure, the college was thriving in a co-residential community that brought an unmatched number of applications for undergraduate spots.
Alas, we could be here for a six-page spread detailing the advancements made by the 12th principal of St Andrew's.
So, instead, let us pay tribute by way of an acoustic poem, to the man many owe their place and passion for this college.
Winning
Wayne loves to win. Look at the numbers and you'll see St Andrew's has cashed in on its no.1 culture while under his leadership. Since his 2008 inception, the College has taken out the Palladian Cup eight times, the Rawson Cup on 12 occasions and the Rosebowl Cup on a consecutive streak from 2009-2022. Athletes, Artists, Musicians and Orators have relished in countless victory dinners and top gong trophies in stunning style.
Academics
St Andrew's prides itself on educational support and academic ascendancy. As a decision maker on college programs, Wayne has overseen success on a range of initiatives. Most notably, the subject tutorial program and academic skills workshops. These openings have allowed students to thrive in all course offerings and have resulted in a near-distinction average across Andrew's.
Yeoman
Wayne has been a relentless foot soldier for college. Throughout periods of heavy interviewing and media scrutiny, he has always represented St Andrew's with a level-head and professional manner. Despite the hampering of Covid-19, Wayne sought avenues to keep College productive in communication with student life departments. As a first-year in 2020 amid the lockdown of Covid-19, I remained involved in the student leadership programs, which kept our cohort close-knitted and ensured the survival of our fresher year.
Noble
Charging into a new age of College living, Wayne has helped form a modern community, enriched by students who seek a better world and endeavour to make change. As the face of St Andrew's, he has single-handedly shown high moral qualities to maintain the continuance of many traditions in accordance with changing social climates. A trait attributed to his selection as the President of University Colleges Australia, where he became the face of more than 60 colleges across the nation.
Elocutionist
Watching the principal reclaim all intercollegiate cups this year was a remarkable memory. Wayne is a passionate public speaker, who leaves no stone unturned with a microphone in hand. Time and time again, the College has been addressed by the dulcet tones of Wayne across many special events. Victory dinners, valedictories and Father's Day events will not be the same without the words from our principal who has a fitting knack for setting a scene.
Expansive
The college has grown immensely under Wayne's way. Students have been blessed with the new Hanks building and Link extension, giving seniors more space and style since its 2007 unveiling. A spotless gymnasium and state-of-the-art student hub followed in 2020, allowing all to pounce on facilities for individual wellbeing and betterment. Further, the catchment of students is at a College-high, home to nearly 400 Androvians.
Rugby
Wayne is a rugby tragic. His love for the sport has facilitated a Rawson reign for the Andrew's side. The Rosebowl outfit across the years has become a force to be reckoned with, sparking a new intercollegiate competition. Pre-College, Wayne left teaching to join the ranks of ARU where he became World Rugby's first full-time referee. Wayne was considered one of the world's best, flying the flag for Australia. He officiated some of the sport's biggest matchups, including the 1996 Super Rugby final, where the Auckland-based Blues defeated the South African Sharks.
Iconic
Spending 19 years around the walls of Andrew's, Wayne is a character that mends with all. That is the reason our College boasts such widespread success and inclusiveness. The Student Club has forged a strong relationship with our principal, who has trusted the elect with financial responsibilities and the capacity to run events. Wayne is a huge believer in Androvians taking on the world and challenges all to find their excellence. St Andrew's is one of two colleges in Australia that requires its students to achieve and maintain a credit average. On the rugby field, Wayne officiated some of the game's biggest moments, infamously red-carding English lock Danny Grewcock for stomping on Dan Carter's head in 2004.
Charitable
St Andrew's annually awards a $2million kitty for scholarships. Along with the Bursar, Ian, Wayne is the presiding decision-maker on scholar, sporting, merit, indigenous and creative art scholarships. His generosity in handing out these awards to prospective students has enriched the College with a unique diversity of talents and backgrounds across our community. In addition, the bursary system at college has gifted many students with a once unattainable Andrew's experience. These programs will only continue to grow due to its backing which Wayne barracked so highly for.
Knowledgeable
Our principal is an avid historian. We will miss Wayne's formal addresses that detail the origins of a specific term related to our Scottish heritage. It is refreshing to see such passion in the Andrew's story, which we hope will be passed on to future principals. Wayne knows all about the 'blue and white' and his formal dinner first grace, which never fails to include the college motto 'Christo, Ecclesiae, Litteris' is a testament to his historical allegiance.
'SON'
The Latin root of the word means 'sound', while the old English derives the term from Proto-Germanic 'Sunus', referring to a descendant.
Now, the history of words is not my excellence. Yet, I know a thing or two about the commitment our principal has shown to St Andrew's over a stupendous tenure. Sound is not quite the adjective to express Wayne's performance in a highly decorated role. He has done more than leave St Andrew's in good condition. Wayne will be remembered as the man who successfully guided our College through a transition of time smashed by challenge and opportunity. He has ensured the continuance of a thriving co-educational community and provided the best facilities to support a range of young adults who will go on to achieve great feats.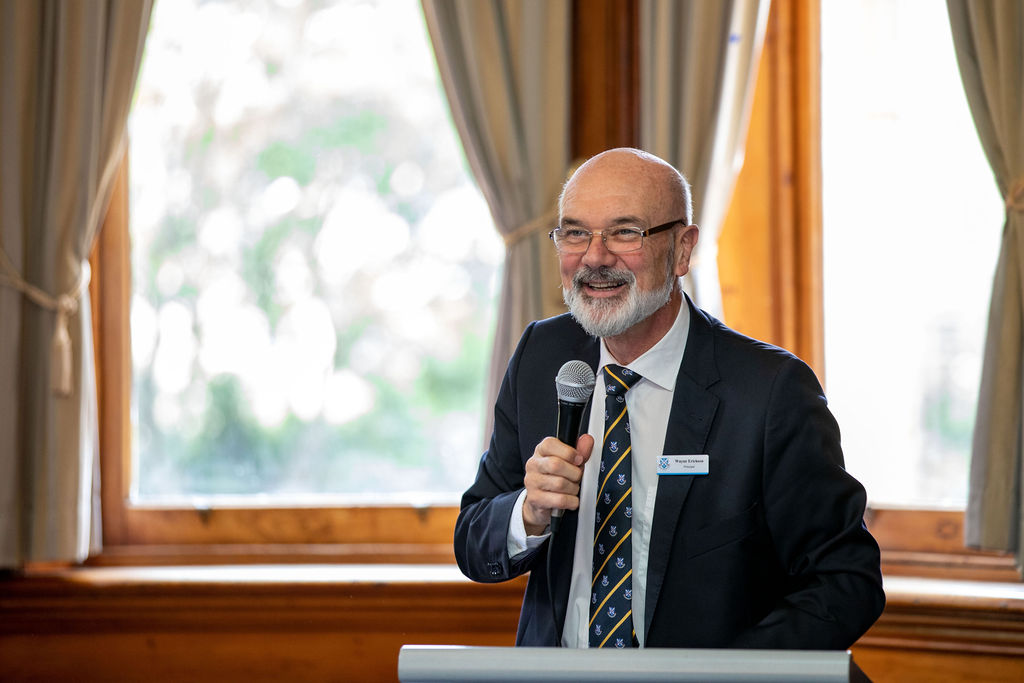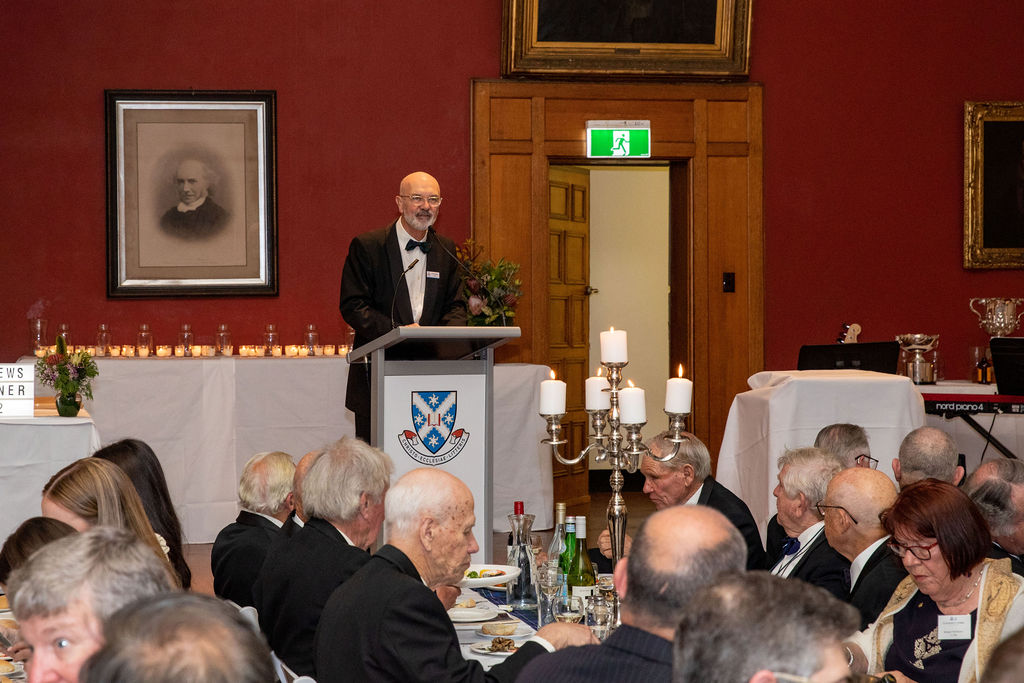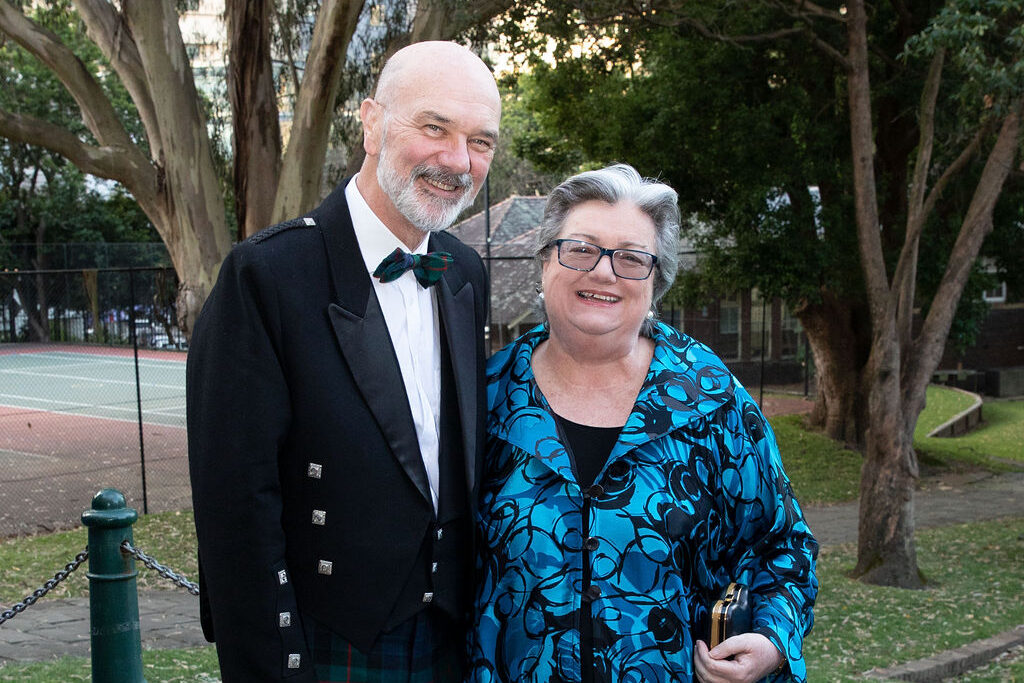 From the Fresher year of 2020 and those before us, we wish you and Debra the best of fortune and health heading into a well-deserved retirement. You have been a marvellous caretaker of St Andrew's history and future.
You've navigated the helm of a spectacular ship.
Stirling Taylor, Drew's News – Editorial Team
Drew's News is our student blog. You can read other articles written by our students here at Drew's News.