Sam Reckling (Fr 2020) is the Director of this year's DramSoc production of 'One Man Two Guvnors'. Sam also plays the part of Stanley Stubbers, one of the two 'guvnors'.
The fast-paced, slapstick comedy written by Richard Bean was staged from 21 –23 October for fully vaccinated attendees and also live streamed for those who could not  attend in person. We caught up with up Sam, who comes from Sydney's North Shore, to find out more about his passion for drama.
Tell us why Drama is a passion for you
I have performed in numerous school plays/musicals since year 3. I have a long-standing love for the adrenaline of stepping out on stage, but most importantly, the experience of creating with others and the connection you make with them is unlike many others.
Why did you choose this particular play?
When choosing the production, a number of factors have to be considered like the number of parts for males and females, how much needs to go on behind the scenes, and most importantly: will a College audience find it funny or interesting?
How many people are involved in the production?
We have 11 cast members, 16 in the stage crew and a further nine in the construction crew. The production is only possible because of the hard work of all the contributors and I'd like to thank everyone for their fantastic efforts. See the complete list of cast and crew below.
What activities have you taken part in at College?
I was involved in DramSoc last year as an actor, and this year as an actor/Director. I am also one of the Community Service Secretaries – I primarily organise the Newtown Mission volunteers.
What degree are you studying?
Bachelor of Science and Advanced Studies (majoring in Genetics and Genomics, and Mandarin) at the University of Sydney.
What made you choose St Andrew's College?
Because I heard it was a place of support that fosters excellence and because it is also a place to have a good time.
Has St Andrew's supported you to achieve your goals?
St Andrew's has helped me achieve my goals academically through the tutoring program and also my personal goals of development through the connections I have made with the friendly good hearted people here.
What's the best thing about College?
The best thing about college is the social events and the silly memories you make at them.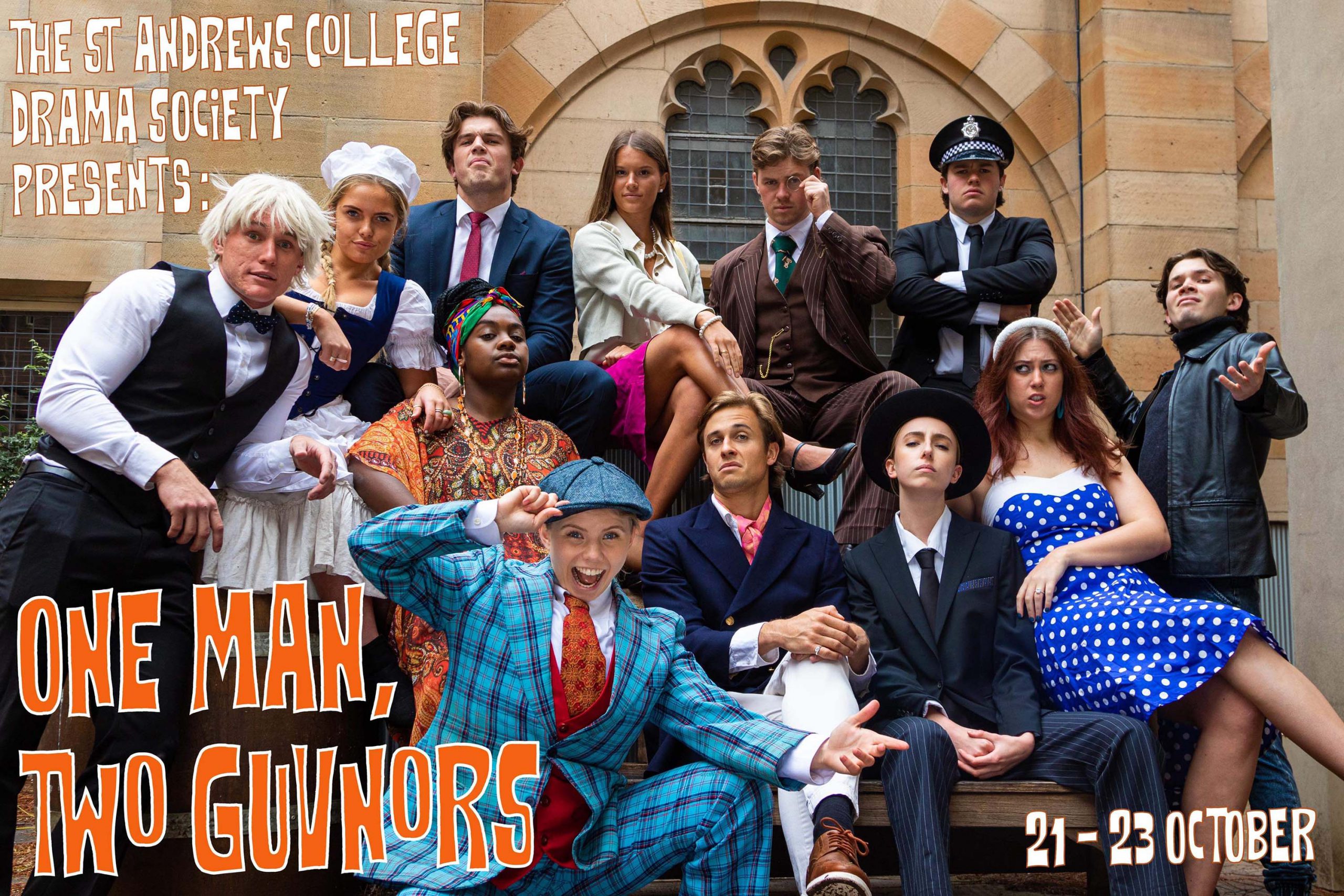 CAST + ENSEMBLE
Charlie (The Duck) Clench – Jeremy Elliott
Pauline Clench – Annabelle Richens
Harry Dangle – Ben Emmett
Alan Dangle – Paddy Flannery
Dolly – Amelia Warburton
Lloyd Boateng – Onyi Nwamadi
Greta – Charlie Stuart
Alfie –  Oscar Cheal
Francis Henshall – Alice Litchfield
Rachel Crabbe – Charlotte MacDonald
Stanley Stubbers – Sam Reckling
CREW
Stage Manager – Euro Ruangvanish
Stage Hands – Ruby Stitt, Zoe Kimber, Oscar Mower, Faith Roche,
Micah Papalii-Talanai, Alex Malouf, Samuel Aubin
Costumes and Makeup – Elise Nolte, Sarah Gabbe
Treasurer – Tom Constable
Lighting and Sound – Tyler Schell, Gemma Hudson
Stage Design – Sophia Carmody, Euro Ruangvanish
Promotion and fundraising – Charlotte Ross
CONSTRUCTION CREW
Lead Supervisors – Oscar Cheal and Deuchar Dight
Construction – Alex O'Reilly, Campbell Duff, Hamish Todd, Hamish Crafter,
Tom Constable, Archie Stacy, Jonty Taylor, Tommy Milin