Unique filming locations at St Andrew's College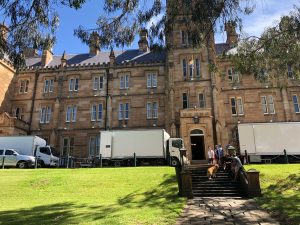 Photo of The Location Collective filming crew at St Andrew's
As a heritage listed site, St Andrew's also provides a dramatic backdrop for filming and photography and makes it one of the most unique venues in Sydney.
We can accommodate large commercial projects, feature films, documentaries and portrait shoots. We offer a spectacular iconic site, as well as heritage listed libraries, boutique meeting rooms, stained glass windows, outdoor sport facilities, bedrooms and wide common spaces as the backdrop for any filming projects.
Make up and wardrobe rooms can easily be arranged by our Events Team for your convenience.
Please see our Filming & Photography brochure for more information Filming Brochure St Andrew's
Parking
We have a private parking lot available for more than 20 cars, vans and trucks to suit your project needs.
Premium Catering
St Andrew's prides itself on providing a premium catering experience onsite daily by St Andrew's chefs. Buffet lunch or dinner can be easily organised for your crew.
Pre-filming approval
If you plan to undertake any filming, interview or photography at the St Andrew's College you will need to apply for a permit.
Simply contact our Events Team by phone or email, and they will check availability and provide you with a customised quotation. To assist with your venue hire enquiry, please tell us what kind of venue you are looking to have. Our friendly and knowledgeable staff will gladly assist on the best location for your shoot and create a smooth experience for your crew at the College. 
We recommend a minimum of ten business days to process requests.
Events Team contact details
For all enquiries, contact Yulia Dabagyants: T: +61 2 9565 7587 or +61 421 915 236