Contact Us
Tel: +61 (2) 9565 7300
Support St Andrew's in 2021
Enabling Access to Andrew's – More Places for More People
Thank you to all who have generously supported the College in 2021.
With your support we have raised $107,498 for Means-Tested Scholarships!
With your generosity, we are one step closer to enabling more access to St Andrew's by providing more scholarships and more spaces for living, socialising and studying.
"Receiving financial support has been truly life-changing. It has enabled me to attend Drew's and experience opportunities that have never been afforded to me before, while forming life-long friendships. By relieving financial stress, I am able to make a greater impact at the College and the wider community."
– Reilly, Government School Scholarship Recipient
With 2020 behind us, we are continuing to work hard to reduce the effects of the pandemic, drought and bushfires, and look towards securing the future for our students.
In 2021, over half of our students will receive some level of scholarship support, which would not have been possible without the help of our community. Unfortunately, each year, the demand for support far exceeds what is available and there are not enough scholarships to help everyone.
Without means-tested scholarships, many talented and motivated students from a diverse array of backgrounds would simply not be able to afford to attend College and university in Sydney, and would never have access to the life-changing academic, sporting, cultural and social opportunities available here. This is why we are seeking your support to help us increase the scholarship funds available.
Means-Tested Scholarships
The College offers a range of means tested scholarships every year. These are awarded to students who lack the financial means to otherwise attend College. While there are a variety of these scholarships available, this year we ask for your support towards the scholarship funds that reflect the students most affected by financial barriers:
Rural & Regional Scholarships
More than half of the current student body are from rural and regional Australia, which has been heavily affected by bushfires, drought, COVID-19 and most recently, flooding. These students currently make up over 60% of the applications for financial support. Help us to provide educational opportunities for regional and remote Australians, who, without scholarship support, would not have the financial means to leave home and attend College or university.
Despite improvements in university enrolments, Indigenous Australians are still underrepresented, comprising just 1.3% of domestic student population, when compared with 3.3% of the total population. St Andrew's currently has 7 indigenous scholarship students, and our aim is to double this number in the near future. Financial reasons are the most commonly reported barrier to studying for a qualification and increasing scholarship funds allocated for indigenous students will assist with removing this barrier.
Government School Scholarships
Research shows that Government School students tend to come from lower socioeconomic backgrounds, and this has a direct negative impact on the rate of progression to tertiary studies. By removing the barriers created by social and economic disadvantage, we can provide these students with opportunities to extend their talents and pursue their aspirations beyond school in a safe and supportive environment.
We believe that no one can say it better than our students themselves, so please take a moment to watch our video to learn just how much of an impact these scholarships make.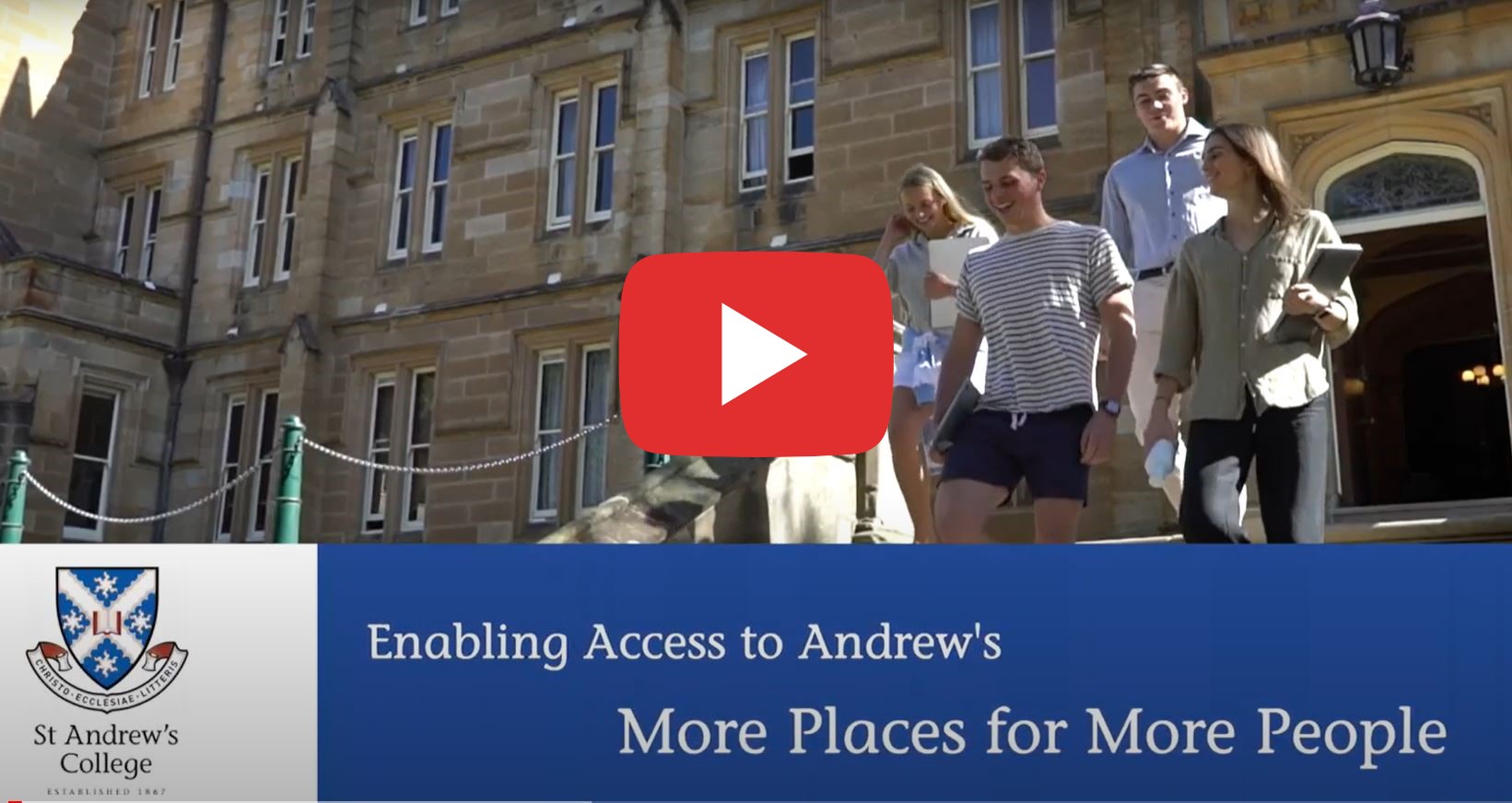 Join us and support our students by making a gift to support one of the Means-Tested Scholarship Funds. 
Call us on +61 2 9565 7348 or +61 2 9565 7303 to have a chat and make a credit card donation
Download our GIVING FORM and send it along with your cheque or credit card details

By clicking the button below to take you to our online portal below
Every gift made, no matter how large or small, has a direct impact on our current and future students.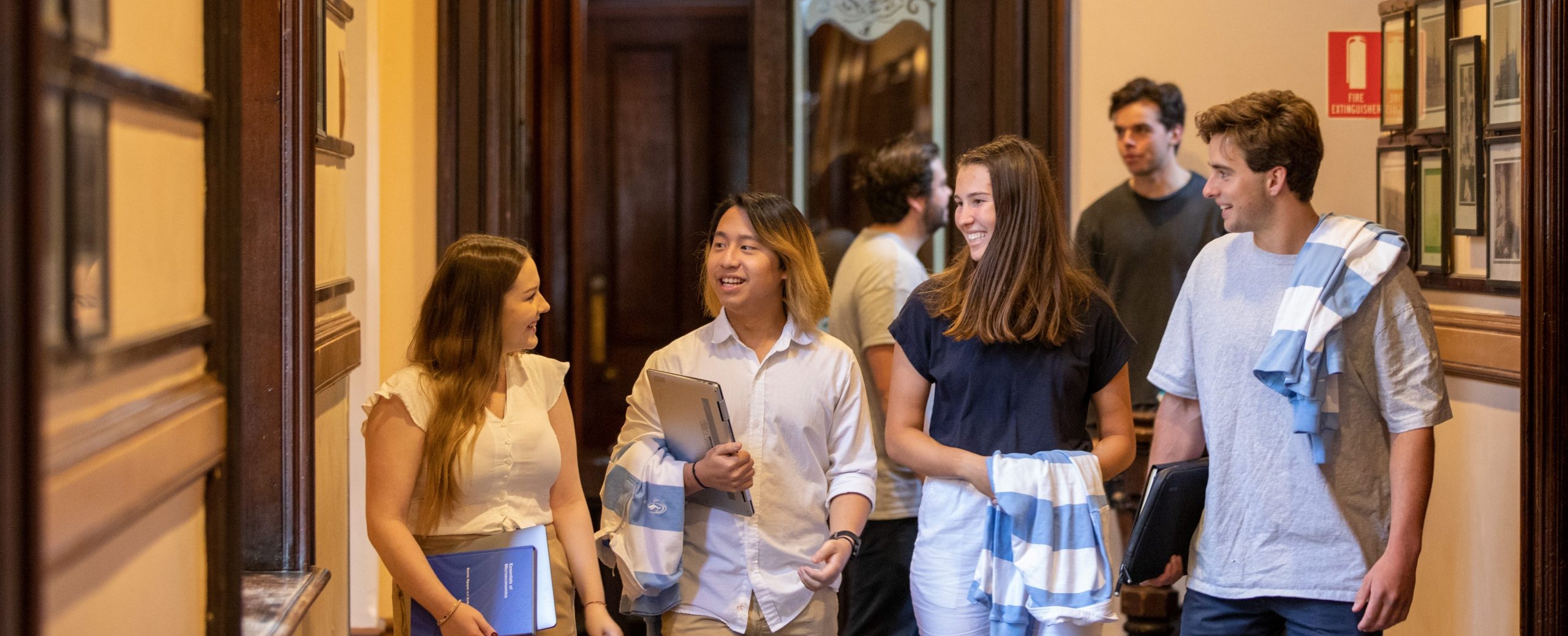 We also have a number of multiple year on year programs and scholarships that we welcome your support for (described below). Please note on the giving form if you would rather support one of the below options.
Capital Works – general fund for all facilities work and maintenance e.g. refurbishments, bedroom renovations.
Senior Student's Fund – for the senior students to use where it is needed most: currently the refurbishment of the JCR.
General Fund – for use on needed projects, decided by the College Council and Senior Management Team.
Geoff White Scholarship – intended to create a fully endowed scholarship ($250,000) as financial relief to a medical student. Established to honour the legacy of alumnus Geoffrey White (Fr 1970), a world-renowned pioneer in the field of Vascular Surgery.
Please do not hesitate to contact us if you would like further information about our Annual Giving Appeal or to support any other areas of the College:
Hannah Atwell, Director of Advancement T: +61 9565 7303 M: +61 434 728 720 E: advancement@standrewscollege.edu.au